Clarksville, TN – A pair of Austin Peay State University track and field student-athletes will have one more chance to secure a qualifying mark for the NCAA East Regional when they compete in the Georgia Tech Invitational, Saturday, at George C. Griffin Track.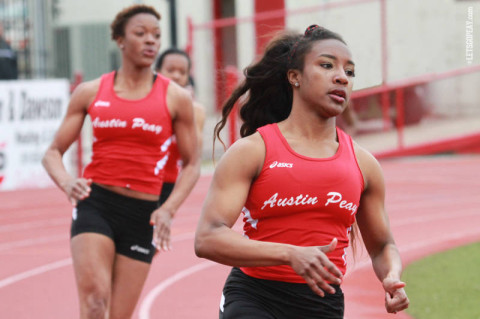 Senior Chantelle Grey should feel fairly secure in her spot; the Missoula, Mont., native ranks 38th in the 800m run at 2:07.18, with the top 48 runners in the region qualified for a spot in the Greensboro, NC, regional field. Grey seeks to move up the field this weekend – as it stands, she's more than a second-and-a-half outside of a top-12 time; the top 12 runners in the Regional advance to the NCAA Championships in Eugene, OR, June 5th-8th.
The 800m event at Georgia Tech is scheduled for a Saturday, 1:30pm (ET) start time. Grey will face off against a host of would-be regional qualifiers in her heat, including a pair of Miami runners in the regional top 40 (Alaine Tate and Taneisha Cordell) along with BYU's Kelsey Brown, who owns the 20th-fastest time in the NCAA West region this season.
Freshman Breigh Jones will join Grey in Atlanta with work to do if she wants to qualify for the regional in the 400m dash. Her personal-best 54.87 mark – which she set first at the April 20th Vanderbilt Invitational and equaled in the preliminaries of last week's OVC Outdoor Championships – ranks her 70th in the region entering the weekend. She'll need to shave at least three-tenths of a second off her time to find her way into the top 48.
Jones' competition in Saturday's race will be fierce. The 2:50pm race will feature OVC champion Ashontae Jackson from Tennessee State, along with Clemson's Keisha Richburg (74th in the East region), Coastal Carolina's Qwontajah Thompson (t-59th – East) and Prairie View's Terracia Moody (45th – West) in Jones' heat two lineup. Another pair of Clemson athletes running the first heat – Nia Fluker and Brittany Pringley – are in the top-35.