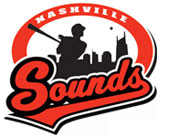 Tacoma, WA – A late rally came up just short for the Nashville Sounds on Wednesday evening at Cheney Stadium as they dropped their third straight game to the Tacoma Rainiers, losing by a 5-4 margin.
The loss was the PCL-leading 11th one-run defeat suffered by Nashville (12-32) this season.
Rainiers starter Andrew Carraway (5-1) stifled the Sounds to earn a quality start victory. The right-hander held Nashville to one run on six hits while matching his season high with six strikeouts over 6 2/3 frames.
The Sounds broke a scoreless tie in the top of the fifth inning on excellent hustle by Hainley Statia on the basepaths. After Statia drew a two-out walk from Carraway, he was moving on the hurler's 3-2 offering to Josh Prince, which the Nashville shortstop blooped to center for a single. Statia kept going all the way to the plate and scored the night's first run on the play. The single extended Prince's season-best hitting streak to seven games, the longest active run by any Sounds player.
Tacoma knotted the score with a two-out run-scoring hit of its own in the home half of the frame. After Tyler Thornburg allowed the first two batters to reach on a hit by pitch and single, he retired the next two batters before allowing a game-tying single off the bat of Franklin Gutierrez.
The Rainiers took a 5-1 lead in the sixth with four runs off Thornburg, chasing the right-hander from the contest in the process.
After Tacoma loaded the bases with no outs against the right-hander, Thornburg got a grounder from Carlos Triunfel that resulted in a force out at the plate before Jesus Sucre delivered a go-ahead, two-run double. Abraham Almonte greeted Sounds reliever Tim Dillard with an RBI infield single and Nick Franklin followed with a sac fly to up the home team's lead to four.
Thornburg (0-6) remained winless on the year, taking his sixth loss after being touched for five runs on seven hits over 5 1/3 innings. He struck out eight batters during his 97-pitch outing.
Nashville got three runs back in the top of the eighth against Rainiers reliever Logan Bawcom to pull back within a run at 5-4. However, the Sounds were unable to advance the potential tying run past second with only one out in the frame.
Blake Lalli got things started when he cut the deficit to 5-3 with an opposite-field two-run double to left-center. Scooter Gennett (single) and Caleb Gindl (walk) scored on the two-bagger. Hunter Morris followed Lalli with an infield single to put runners on the corners with one out for Nashville. Bobby LaFromboise took over on the hill for Tacoma and was greeted by an RBI single off the bat of Stephen Parker (2-for-4). The lefty escaped the jam without further damage by retiring Dayton Buller on a flyout before catching Statia looking at a called third strike to end the frame.
Tacoma looked to add an insurance run in the home half of the eighth against Michael Olmsted, but Statia made a strong throw to the plate from right field following a Sucre single to nail Triunfel at the dish as he attempted to score from second on the play.
LaFromboise retired the Sounds in order in the ninth to close out the victory for Tacoma and earn his second save.
The Sounds will look to avoid a sweep when the teams wrap up the four-game set with a 9:00pm CT finale on Thursday evening. Left-hander Zach Kroenke (1-6, 5.75) will make the start for the Sounds to face Tacoma right-hander Jeremy Bonderman (2-3, 3.79).
Box Score
Tacoma Rainiers (29-18) 5, Nashville Sounds (12-32) 4
May 22nd, 2013
1
2
3
4
5
6
7
8
9
R
H
E
Nashville Sounds
0
0
0
0
1
0
0
3
0
4
9
0
Tacoma Rainiers
0
0
0
0
1
4
0
0
x
5
10
0
BATTING
2B: Lalli (2, Bawcom).
TB: Lalli 2; Prince; Gennett 2; Parker, S 2; Morris, H; Gindl; Statia.
RBI: Prince (10), Lalli 2 (4), Parker, S (15).
2-out RBI: Prince.
Runners left in scoring position, 2 out: Gindl; Gennett; Prince; Statia.
Team RISP: 3-for-9.
Team LOB: 8.BASERUNNING
SB: Gennett (7, 2nd base off Carraway/Sucre).FIELDING
Outfield assists: Statia (Triunfel at home).
BATTING
2B: Liddi (6, Thornburg), Sucre (1, Thornburg), Triunfel (14, Olmsted).
TB: Romero, S; Sucre 4; Triunfel 2; Almonte, A; Liddi 2; Gutierrez, F; Franklin 2.
RBI: Gutierrez, F (3), Sucre 2 (5), Almonte, A (7), Franklin (20).
2-out RBI: Gutierrez, F.
Runners left in scoring position, 2 out: Tenbrink; Thames; Gutierrez, F; Almonte, A.
SF: Franklin.
Team RISP: 5-for-12.
Team LOB: 7.BASERUNNING
SB: Romero, S (4, 2nd base off Thornburg/Buller), Almonte, A (2, 2nd base off Dillard/Buller).
WP: Thornburg.
HBP: Triunfel (by Thornburg).
Pitches-strikes: Thornburg 97-59, Dillard 11-6, Webb 14-10, Olmsted 14-9, Carraway 97-62, Bawcom 23-12, LaFromboise 21-14.
Groundouts-flyouts: Thornburg 6-0, Dillard 1-1, Webb 0-0, Olmsted 1-1, Carraway 6-4, Bawcom 0-2, LaFromboise 0-1.
Batters faced: Thornburg 26, Dillard 3, Webb 3, Olmsted 4, Carraway 27, Bawcom 6, LaFromboise 6.
Inherited runners-scored: Dillard 2-2, Bawcom 2-0, LaFromboise 2-1.
Umpires: HP: Spencer Flynn. 1B: Quinn Wolcott. 3B: Brandon Misun.
Weather: 50 degrees, overcast.
Wind: 7 mph, Out to CF.
T: 2:52.
Att: 2,090.