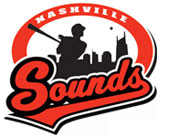 Nashville, TN – Johnny Hellweg tossed a quality start and was backed by home runs by Hunter Morris and Khris Davis as the Nashville Sounds defeated the Albuquerque Isotopes, 3-2, on Sunday afternoon at Greer Stadium.
Hellweg (3-4) earned a victory for the second time in his last three outings for Nashville. The fireballer held the Isotopes to one run on two hits over six innings of work, striking out five batters while walking four during his 94-pitch effort.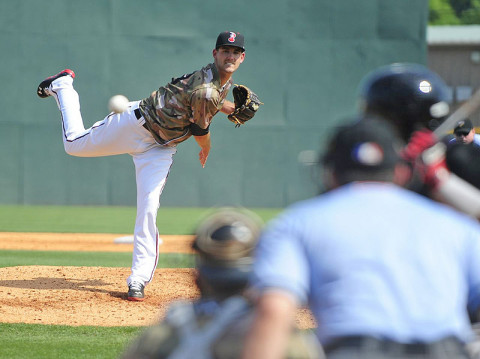 The 6-foot-9 right-hander combined with a trio of relievers to hold Albuquerque to five hits on the afternoon. Tim Dillard and Michael Olmsted each worked a hitless inning before Rob Wooten closed out the victory in the ninth to notch his sixth save of the year.
First baseman Hunter Morris continued his recent power surge when he put the Sounds on the board with a leadoff solo homer to right in the bottom of the second inning.
The blast against Albuquerque starter Blake Johnson was Morris' team-leading tenth roundtripper of the year and his sixth in the past nine games since his return from the D.L. The big fly also extended the slugger's longest hitting streak of the year to seven games (9-for-25, .360).
Nashville doubled the lead to 2-0 in the third when they loaded the bases against Johnson before Scooter Gennett raced home from third on a Josh Prince groundout.
Johnson (4-3) took a hard-luck, quality-start loss for Albuquerque after allowing two runs on eight hits over his six frames of action.
The visitors pulled within a run in the fifth with their first hit of the afternoon against Hellweg, a one-out homer to right by catcher Matt Wallach. The backstop's second homer of the year cut the Sounds' lead to 2-1.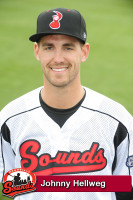 Left fielder Khris Davis upped the Nashville lead to 3-1 in the seventh with his sixth home run of the year, a one-out shot to left-center off Albuquerque reliever Anthony Ortega. Davis went 3-for-4 for the Sounds for the second day in a row and is hitting .362 over his last 16 games (21-for-58).
After having only one baserunner over the previous three frames, the Isotopes put together a rally against Wooten in the ninth.
Chili Buss and Rusty Ryal opened the inning with consecutive singles before the Nashville closer struck out Jeremy Moore and Justin Sellers in succession. Ex-Sound Tony Gwynn, Jr. followed with a pinch-hit RBI single to center that reduced the Sounds' lead to 3-2. Wooten then struck out Wallach on a check-swing to close the door and secure the one-run win.
The Sounds will go for a series split when the clubs wrap up the four-game set with a 2:05pm Memorial Day finale tomorrow. Right-hander Tyler Thornburg (0-6, 6.99) will start for the Sounds and face Albuquerque southpaw Aaron Laffey (1-2, 7.78).
Box Score
Nashville Sounds 3, Albuquerque Isotopes 2
May 26th, 2013
1
2
3
4
5
6
7
8
9
R
H
E
Albuquerque Isotopes
0
0
0
0
1
0
0
0
1
2
5
0
Nashville Sounds
0
1
1
0
0
0
1
0
x
3
9
0
a-Singled for Ortega, A in the 9th.
BATTING
HR: Wallach (2, 5th inning off Hellweg, 0 on, 1 out).
TB: Wallach 4; Gwynn; Ryal; Buss 2.
RBI: Wallach (7), Gwynn (14).
2-out RBI: Gwynn.
Runners left in scoring position, 2 out: Johnson, B; Wallach.
Team RISP: 1-for-5.
Team LOB: 6.BASERUNNING
PO: Moore, J (1st base by De La Rosa, A).
a-Struck out for Hellweg in the 6th. b-Struck out for Olmsted in the 8th.
BATTING
2B: Parker, S (7, Johnson, B).
HR: Morris, H (10, 2nd inning off Johnson, B, 0 on, 0 out), Davis, K (6, 7th inning off Ortega, A, 0 on, 1 out).
TB: Gennett; Parker, S 3; Davis, K 6; Statia 2; Morris, H 4.
RBI: Morris, H (24), Prince (15), Davis, K (16).
Runners left in scoring position, 2 out: Prince 2; Morris, H; Gennett.
Team RISP: 0-for-6.
Team LOB: 9.FIELDING
Pickoffs: De La Rosa, A (Moore, J at 1st base).
Albuquerque Isotopes
Player
IP
H
R
ER
BB
SO
HR
ERA
Blake Johnson (L, 4-3)
6.0
8
2
2
2
6
1
3.79
Anthony Ortega
2.0
1
1
1
1
2
1
2.91
Totals
8.0
9
3
3
3
8
2
4.11
Pitches-strikes: Johnson, B 96-61, Ortega, A 31-18, Hellweg 94-61, Dillard 11-8, Olmsted 13-9, Wooten 27-18.
Groundouts-flyouts: Johnson, B 10-0, Ortega, A 1-3, Hellweg 8-2, Dillard 0-2, Olmsted 1-0, Wooten 0-0.
Batters faced: Johnson, B 28, Ortega, A 8, Hellweg 23, Dillard 3, Olmsted 3, Wooten 6.
Umpires: HP: Gerard Ascani. 1B: Joel Hospodka. 2B: Tom Woodring. 3B: D.J. Reyburn.
Weather: 82 degrees, sunny.
Wind: 2 mph, L to R.
T: 2:32.
Att: 4,449.