Nashville 's Hunter Morris Goes Yard Twice For 4 RBIs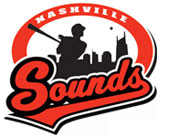 Memphis, TN – The Nashville Sounds belted their way to 7-1 victory over the Memphis Redbirds Saturday night at AutoZone Park, highlighted by Hunter Morris' two-homer game.
Morris saved the fireworks for his final two at-bats, tagging home runs off Memphis reliever Nick Additon in the seventh and eighth innings. His first jack opened the seventh and ended his 0-for-14 slump. Then with two outs in the eighth, Morris slapped a three-run homer to the right-field corner to increase Nashville's lead to six runs.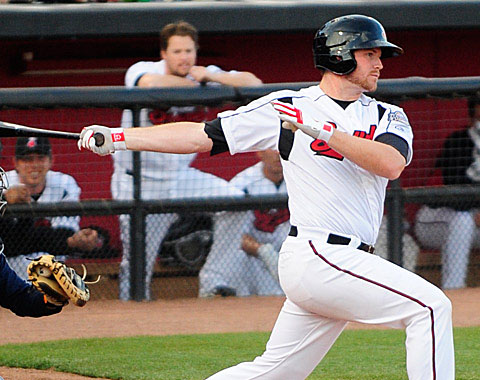 The multi-home run effort is Morris' third of the season and gives him 12 dingers on the year.
Starting pitcher Mike Fiers (1-1), making his first Sounds appearance since May 3rd, tossed five scoreless frames, fanning four Redbirds and walking one en route to his first victory in four starts for Nashville.
The Sounds scored in each of the first three innings, jumping on Memphis starting pitcher Mitchell Boggs (0-1) for a 3-0 lead.
Two Redbirds errors, one each from Ryan Jackson and Boggs, in the first inning allowed Sounds second baseman Hainley Statia, 1-for-3, around the base paths to score after reaching base on a single into right-center field to start the game.
In the second, Khris Davis was hit by one of Boggs' pitches with the bases loaded to score Anderson De La Rosa. The Sounds recorded no hits in the inning, but loaded the bases by drawing two walks and beating out a fielder's choice.
Finally, in the third with two outs, Ozzie Chavez lifted a double over Oscar Taveras in centerfield to score De La Rosa, who reached on a hit by pitch.
Nashville accumulated 10 hits on the night and drew a season-high nine walks. Four Sounds had multiple-hit nights, while Sean Halton and Statia each drew three walks. The Sounds left a season-high 14 runners on base.
The Redbirds picked up their lone run in the bottom of the seventh inning, when catcher Rob Johnson touched Nashville reliever Johnnie Lowe for a solo home run into the Memphis bullpen.
Lowe logged two innings for Nashville, limiting Memphis to one run on three hits with three strikeouts and no walks. Michael Olmsted pitched a spotless eighth with one strikeout before Tim Dillard finished the game, allowing one hit.
The Sounds will look to win the four-game series against the Redbirds Sunday at AutoZone Park. Throwing for Nashville in the 1:35pm game will be LHP Chris Narveson (0-1, 13.50) opposite Memphis' RHP Scott McGregor (1-2, 7.31).
Baseball returns to Greer Stadium on Monday, June 10th, when the Sounds host the Omaha Storm Chasers to a four-game series.
Box Score
Nashville Sounds (20-40) 7, Memphis Redbirds (32-29) 1
June 8th, 2013
1
2
3
4
5
6
7
8
9
R
H
E
Nashville Sounds
1
1
1
0
0
0
1
3
0
7
10
1
Memphis Redbirds
0
0
0
0
0
0
1
0
0
1
8
2
a-Struck out for Lowe in the 8th. b-Popped out for Olmsted in the 9th.
BATTING
2B: Chavez, O (1, Boggs).
HR: Morris, H 2 (12, 7th inning off Additon, 0 on, 0 out; 8th inning off Additon, 2 on, 2 out).
TB: Chavez, O 3; De La Rosa, A; Halton; Morris, H 8; Statia; Gindl 2.
RBI: Davis, K (18), Chavez, O (2), Morris, H 4 (30).
2-out RBI: Davis, K; Chavez, O; Morris, H 3.
Runners left in scoring position, 2 out: Parker, S 2; Morris, H 2; Fiers; Davis, K 3.
GIDP: Gindl, Parker, S.
Team RISP: 3-for-14.
Team LOB: 14.FIELDING
E: Parker, S (12, fielding).
DP: (Morris, H-Chavez, O).
BATTING
2B: Taveras, O (9, Fiers), Additon (1, Lowe), Curtis (7, Dillard).
HR: Johnson, Ro (6, 7th inning off Lowe, 0 on, 2 out).
TB: Chambers; Additon 2; Curtis 3; Romak; Taveras, O 2; Johnson, Ro 5.
RBI: Johnson, Ro (20).
2-out RBI: Johnson, Ro.
Runners left in scoring position, 2 out: Christian; Chambers; Johnson, Ro.
GIDP: Chambers.
Team RISP: 0-for-7.
Team LOB: 7.BASERUNNING
CS: Curtis (1, 2nd base by Fiers/De La Rosa, A).FIELDING
E: Jackson, R (4, fielding), Boggs 2 (2, pickoff, throw), Curtis (6, fielding).
DP: 2 (Wong-Jackson, R-Romak, Romak-Jackson, R-Romak).
WP: Additon 2.
HBP: Davis, K (by Boggs), De La Rosa, A (by Boggs).
Pitches-strikes: Fiers 82-52, Lowe 35-24, Olmsted 8-6, Dillard 8-6, Boggs 61-32, Additon 99-55, Rzepczynski 12-7.
Groundouts-flyouts: Fiers 7-1, Lowe 1-2, Olmsted 0-2, Dillard 3-0, Boggs 8-5, Additon 5-0, Rzepczynski 0-1.
Batters faced: Fiers 19, Lowe 9, Olmsted 3, Dillard 4, Boggs 21, Additon 25, Rzepczynski 2.
Inherited runners-scored: Rzepczynski 3-0.
Umpires: HP: Quinn Wolcott. 1B: Spencer Flynn. 3B: Brandon Misun.
Weather: 86 degrees, partly cloudy.
Wind: 9 mph, Out to LF.
T: 3:01.
Att: 11,503.
Venue: AutoZone Park.
June 8, 2013