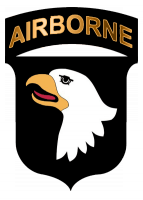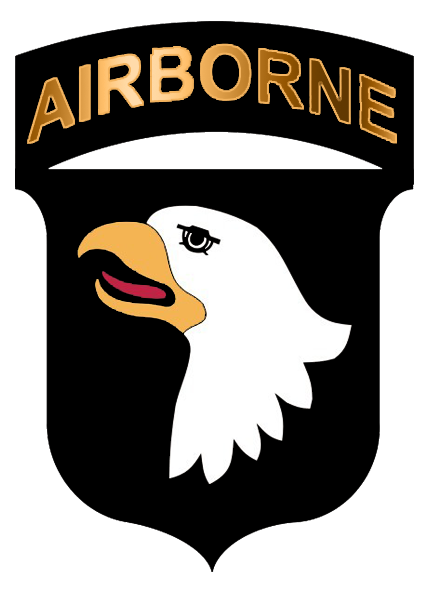 Fort Campbell, KY – Familiar names are atop the leaderboard after the June 8th first round of the Commanding General's Golf Tournament, at Cole Park Golf Course, with Jeff Chandler leading the Open Division and Greg Guinn setting the pace in the Senior Division.
The tournament concludes June 9th with the final 18 holes, starting with the first tee times beginning at 7:00am.
Chandler fired a six-under 66 to lead a group of eight golfers that carded under-par rounds on the opening day – with Drew Miller just a shot back with a five-under 67, which included a bogie on the final hole of the day.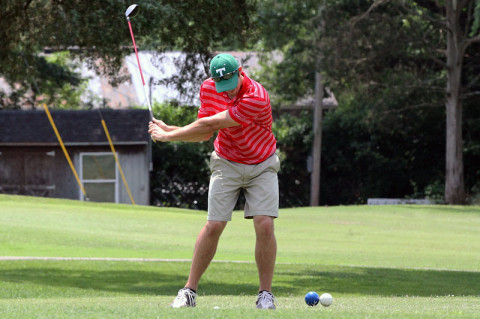 "I just came out to the tournament trying to have a little fun and didn't really expect very much out of myself," Miller said. "I haven't been playing all that much and I just wanted to come out and see what I could do.
"I feel confident after my round today and hit a bunch of fairways and greens and that's what you have to do. I just need to hit a few more putts tomorrow."
Brian Balthrop and Clev Guinn are both three shots back of Chandler after rounds of three-under 69's.
"I was really happy with my round today and played pretty well all the way around, Guinn said. "Putts weren't falling as much as you would think that they would, or as they normally do out here, but it was good if you could get the speed right.
"I'm excited about playing tomorrow and hopefully I'll come out and play like I did today and hope for the best."
For Balthrop, his round came down to knowing when to take advantage of pin placements.
"I didn't hit it as well as I wanted too," he said. "But I picked my spots and when at the pins that were accessible.
"When it was needed to get up and down, I just grinded it out and tried to save as many pars as possible. I had four birdies and a bogey, so it was a pretty clean round for the most part and I'm pretty excited where it stands right now."
Justin Burney, Tyler Phillips and Colin Walker are all at two-under 70, with Corey Cornell coming in at one-under 71.
In the Senior Division, Guinn leads a pack of five golfers that played the opening round under par.
"You can't win it (the tournament) today, but you can lose it," Guinn said. "You want to get as many birdies as you can – get to the house – and see how you finish at the end of the day when everything is over.
"There are a lot of good senior players out here, so about all you can do is make a bunch of birdies and put yourself in position for tomorrow. If you can be on the last nine (holes) in contention that's what you want – that's what you play for."
Brad vanKirk is nipping at Guinn's heels, just a shot back, after carding an opening round four-under 68.
"I'm loving where I'm at after the first 18 holes," said VanKirk, who also shot an opening round 68 last year on his way to winning the tournament. "If omens mean anything, then I'm in a great spot.
"My round was pretty textbook and I did leave several shots out there, but the round overall wasn't anything special. I'm going to have to shoot a lower score than I did today to win tomorrow. I'll probably need to shoot six or seven under to win tomorrow."
Steve Blackwell and Mike Taylor are three shots back of Guinn, with rounds of two-under 70, while Tom Edwards finished with a one-under 71 opening round.
In the other flights, Brett McHaney and Christian Snook led the Open Division's First Flight – with two-over 74s, with Tyler Guy (75) one shot back, while John Hahn and Eric Ward are two shots back with 76s.
In the Open Division Second Flight, three golfers – Sam Davis, Carlos Rubert and Ferrell Swindell – lead with 10-over 82s, with nine golfers within three shots of the trio.
In the Senior Division First Flight, six golfers are in a logjam atop the leaderboard with four-over 76s – which includes Mike Bell, Mark Black, Ted Purdom, Jack Smith, Mike Welker and Wayne Woodham.
The Senior Division Second Flight has a four-way tie for the lead after 18 holes, with Rickey Briskey, Dennis Kolb, Jim Riley and Bill Wilkinson all coming in with 10-over 82s.
Commanding General's Golf Tournament
Cole Park Golf Course
Second-Round Tee Times
Open Division
Championship Flight
JEFF
CHANDLER
1230
DREW
MILLER
1230
BRIAN
BALTHROP
1230
CLEVE
GUINN
1230
JUSTIN
BURNEY
1220
TYLER
PHILLIPS
1220
COLIN
WELKER
1220
COREY
CORNELL
1220
TODD
GREENE
1210
DOUG
GOLDEN
1210
JOE
HODGE
1210
DAYTON
JONES
1210
JONATHAN
SHUSKEY
1200
First Flight
BRETT
MCHANEY
1200
CHRISTIAN
SNOOK
1200
TYLER
GUY
1200
JOHN
HAHN
1150
ERIC
WARD
1150
JOSH
BLACK
1150
DAVID
CAMPEAU
1150
AARON
KING
1140
JOHNATHAN
SEWELL
1140
JOHN
WISE
1140
MATTHEW
RUCKER
1140
WESTON
SARTAIN
1130
DAVID
SHERON SR
1130
DUSTIN
SMITH
1130
Second Flight

| | | |
| --- | --- | --- |
| SAM | DAVIS | 1130 |
| CARLOS | RUBERT | 1120 |
| FERRELL | SWINDELL | 1120 |
| BARRY | CUNNINGHAM | 1120 |
| JOEY | SAMUELS | 1120 |
| CHRISTOPHER | ENGLEN | 1110 |
| JAMES | HOLLAND | 1110 |
| MICHAEL | WILKINS | 1110 |
| TAVIS | HANLEY | 1110 |
| BOBBY | MORRISON | 1100 |
| PHELON | SPENCER | 1100 |
| SHAWN | TAYLOR | 1100 |
| PAUL | BONTRAGER | 1100 |
| JB | KENT | 1050 |
| JESSE | WEEKS | 1050 |
| BRYAN | WHITFORD | 1050 |
| MILLER | HYAMS | 1050 |
| KEVIN | JERMAN | 1030 |
| RYAN | THEOBALD | 1030 |
| LUKE | THIEKEN | 1030 |
| SUNNY | MITCHELL | 1030 |
| DAVID | SHERON JR | 1020 |
| WILLIS | BRYANT | 1020 |
| MICHAEL | HYAMS | 1020 |
| GEORGE | WHITE | 1020 |
| MICHAEL | PENDLETON | 1010 |
| ANTHONY | WILKINS | 1010 |
| JOHN | ROMERO | 1010 |
| JAMES | BOWMAN | 1000 |
| JIMMY | GUARDADO | 1000 |
| DUSTIN | SUSZEK | 1000 |
| TIM | HEATHERLY | 950 |
| JIM | YOUNG | 950 |
| WILLIAM | SEGEL | 950 |

Senior Division
Championship Flight

| | | |
| --- | --- | --- |
| GREG | GUINN | 940 |
| BRAD | VANKIRK | 940 |
| STEVE | BLACKWELL | 940 |
| MIKE | TAYLOR | 940 |
| TOM | EDWARDS | 930 |
| MARCUS | SARTAIN | 930 |
| BRENT | HYAMS | 930 |
| TED | CROZIER | 930 |
| JIM | DUTTWEILER | 920 |
| HAROLD | HENSLEY | 920 |
| RICK | RICHARDSON | 920 |
| TOMMY | SHEARON | 920 |
| JEFF | WHITLOW | 910 |

First Flight

| | | |
| --- | --- | --- |
| MIKE | BELL | 910 |
| MARK | BLACK | 910 |
| TED | PURDOM | 910 |
| JACK | SMITH | 900 |
| MIKE | WELKER | 900 |
| WAYNE | WOODHAM | 900 |
| RICHARD | ASHBROOK | 900 |
| JEFF | CAMPEAU | 850 |
| GEORGE | DIXON | 850 |
| RALPH | DUKE | 850 |
| KEN | HUDSON | 850 |
| GERRY | RILEY | 830 |
| JAMES | CLARK | 830 |
| KENNETH | KELLY | 830 |
| DICKY | SEAY | 830 |
| RONNIE | SEAY | 820 |
| RON | SLEIGH | 820 |
| BRUCE | BEDSOLE | 820 |
| BOBBY | BRACY | 820 |
| HAROLD | GABHART | 810 |
| RAY | JOHNSON | 810 |
| JAMES | WALKER | 810 |

Second Flight

RICKEY
BRISKEY
810
DENNIS
KOLB
800
JIM
RILEY
800
BILL
WILKINSON
800
MARK
TAYLOR
800
MORRIS
VAN WHY
750
BILLY
GRAY
750
GARY
McCASH
750
ERNIE
BRIGGS
750
PAUL
EAVES
740
DAVID
GRICE
740
DANNY
MOREFIELD
740
RONALD
GRAY
740
JOHN
OLIVER
730
WAYNE
SINKS
730
BOB
VAIL
730
HOMER
KOCHER
730
JOE
SMOOT
720
SKIP
COOK
720
JOHN
SPRAKE
720
TERRY
GRIFFIN
720
MONTRAY
LOVE
710
TIM
STANCIL
710
CHAPPELL
WILSON
710
DAVID
DAVIDSON
700
HAROLD
FULK
700
DALE
COLSON
700