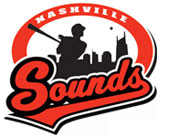 Nashville, TN – The Nashville Sounds plated a pair of runs in the bottom of the ninth inning to record a walkoff 5-4 victory over the visiting Tucson Padres on Monday evening at Greer Stadium.
Sean Halton's two-out RBI single to left off Tucson closer Miles Mikolas was the game-winner for the Sounds, who recorded their fourth walkoff win of the year and the second of the current homestand.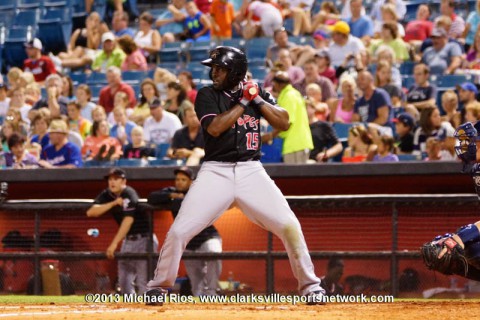 Trailing 4-3 entering the home half of the ninth, Josh Prince led off with a double to left before Mikolas recovered to strike out pinch-hitter Stephen Parker and Hainley Statia in succession for the first two outs. Kentrail Davis followed with an infield single that put runners on the corners for Nashville, and Eugenio Velez evened the score at 4-4 with an RBI single up the middle.
Halton followed by working a full count against Mikolas then fouling off a pair of offerings before turning the right-hander's eighth pitch of the at-bat into a solid line drive to left to plate Davis with the winning run.
The victory was the seventh in the last eight games for red-hot Nashville (45-72).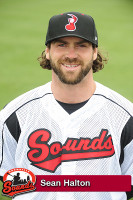 Halton went 4-for-5 for the Sounds to continue his torrid hitting. He has hit safely in 11 of his last 12 games and is batting .344 (21-for-61) over his last 18 PCL contests.
The visitors took a 2-0 first-inning lead against Jimmy Nelson. Padres left fielder Brandon Allen (2-for-3) plated the first run with a one-out RBI single to right before Gregorio Petit added a sacrifice fly.
The Sounds jumped out to a 3-2 lead with a third-inning rally against Tucson starter Robbie Erlin.
Velez singled, stole second, and later scored Nashville's first run when Allen lost Hunter Morris' one-out single in the lights. With the knock, Morris extended his hitting streak to eight games, batting .333 (11-for-33) over that stretch. The Sounds continued its rally by loading the bases when Robinzon Diaz (2-for-4) singled then pulled in front on 's two-out, two-run single to left.
The Padres tied the contest at 3-3 in the top of the third. Allen led off with a double and later came plateward on Scott Moore's one-out single through the right side of the infield.
Tucson first baseman Cody Decker put the visitors back on top in the sixth when he smashed a two-out solo homer to left-center off the scoreboard. The blast, off Nelson, was the infielder's 13th big fly of the year.
Kyle Heckathorn (7-3) was the beneficiary of the late Nashville rally, picking up the victory after working two hitless inning of relief. Mikolas (4-2) was saddled with the loss after suffering his fourth blown save of the year.
The teams wrap up the four-game series with a 7:05pm finale on Tuesday evening. Left-hander Chris Narveson (3-6, 5.51) will man the bump for the Sounds. Tucson will counter with right-hander Matt Andriese (1-4, 3.98).
Box Score
Nashville Sounds (45-72) 5, Tucson Padres (60-57) 4
August 5th, 2013
1
2
3
4
5
6
7
8
9
R
H
E
Tucson Padres
2
0
0
1
0
1
0
0
0
4
9
1
Nashville Sounds
0
0
3
0
0
0
0
0
2
5
13
1

Two out when winning run scored.
a-Struck out for Erlin in the 6th.
BATTING
2B: Allen (17, Nelson).
HR: Decker, C (13, 6th inning off Nelson, 0 on, 2 out).
TB: Decker 2; Allen 3; Moore, S; Anna; Robertson; Robinson, Ch; Decker, C 4.
RBI: Allen (52), Petit, G (49), Moore, S (59), Decker, C (52).
2-out RBI: Decker, C.
Runners left in scoring position, 2 out: Moore, S; Allen 2; Petit, G.
SAC: Petit, G.
SF: Petit, G.
Team RISP: 2-for-5.
Team LOB: 7.BASERUNNING
CS: Moore, S (2, 2nd base by Nelson/Lalli).
PO: Moore, S (1st base by Nelson).FIELDING
E: Allen (4, fielding).
DP: (Petit, G).
a-Struck out for Heckathorn in the 9th.
BATTING
2B: Halton (25, Erlin), Diaz, R (4, Quackenbush), Prince (17, Mikolas).
TB: Velez 2; Prince 3; Diaz, R 3; Halton 5; Davis, B; Morris, H; Davis, Ke.
RBI: Morris, H (59), Prince 2 (44), Velez (4), Halton (39).
2-out RBI: Prince 2; Velez; Halton.
Runners left in scoring position, 2 out: Diaz, R 2; Davis, B 2; Lalli.
Team RISP: 7-for-14.
Team LOB: 8.BASERUNNING
SB: Velez (5, 2nd base off Erlin/Robinson, Ch).FIELDING
E: Halton (2, throw).
Pickoffs: Nelson (Moore, S at 1st base).
Pitches-strikes: Erlin 93-59, Reyes, J 31-20, Quackenbush 17-11, Mikolas 24-16, Nelson 105-67, Leach 10-4, Heckathorn 20-15.
Groundouts-flyouts: Erlin 1-2, Reyes, J 2-0, Quackenbush 1-0, Mikolas 0-0, Nelson 8-4, Leach 1-0, Heckathorn 1-2.
Batters faced: Erlin 23, Reyes, J 6, Quackenbush 4, Mikolas 6, Nelson 30, Leach 2, Heckathorn 6.
Inherited runners-scored: Leach 1-0.
Ejections: Nashville Sounds shortstop Hainley Statia ejected by HP umpire Chris Segal (9th)
Umpires: HP: Chris Segal. 1B: Jordan Ferrell. 2B: Kolin Kline. 3B: Cory Blaser.
Weather: 79 degrees, overcast.
Wind: 1 mph, Varies.
T: 3:09.
Att: 2,487.
Venue: Herschel Greer Stadium.
August 5, 2013