Clarksville, TN – August has always been called the Dog Days of summer. What better way to help your pooch stay cool but to take a dip in the pool?
Clarksville Parks and Recreation is going to the dogs once again for the 3rd annual Pooch Pool Party on August 10th.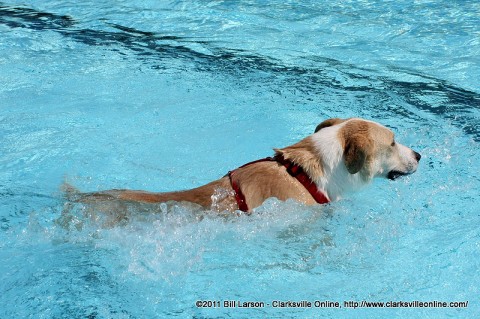 Patrons and their pups are invited to join in on the Pooch Pool Party from 1:00pm to 4:00pm at Swan Lake Pool, located at 2002 Sanders Road.
Dogs will be able to take a dip in the pool and their owners can visit with dog-related businesses and organizations from around town.
All dogs must be at least 6 months old and have proof of current vaccinations.
Cost for Pool Pooch Party is $3.00 per dog, with a limit of two dogs per family.
Event Schedule
1:00pm
Kick-Off
1:30pm
Longest Jump Contest
2:30pm
CPR Demonstration
3:30pm
Biggest Shake Contest
4:00pm
Closing
For more details on Pool Pooch Party, please contact the Clarksville Parks and Recreation at 931.645.7476 or visit www.cityofclarksville.com/events.