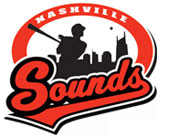 Nashville, TN – The Nashville Sounds fell 7-5 to the Round Rock Express on Tuesday evening at Greer Stadium in the finale of a five-game series.
Nashville (51-80), which held a 5-1 lead in the fifth before Round Rock plated six unanswered runs, lost four of five to the Express in the series.
Round Rock grabbed a 1-0 lead in the top of the second inning against Johnny Hellweg. Alex Buchholz (4-for-5) doubled to right and came around to score on Jim Adduci's two-out RBI infield single.
The Sounds jumped out to a 5-1 advantage in the bottom of the fourth inning, sending 10 men to the plate to post a five-spot against Express starter Ryan Feierabend.
Eugenio Velez, who extended his season-best hitting streak to nine games with a 2-for-4 effort, led off with a single to left, moved to second on a Caleb Gindl single, advanced to third on an error by Round Rock shortstop Guilder Rodriguez, and scored the tying run on a passed ball.
Hunter Morris put Nashville into the lead with an RBI single and the Sounds added additional runs in the inning on run-scoring singles from Stephen Parker and Josh Prince as well as an RBI groundout off the bat of Kentrail Davis.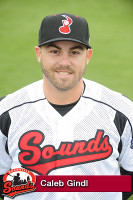 Velez is batting .381 (32-for-84) in his last 23 contests, reaching base in all of them. Gindl's fourth-inning single extended the outfielder's longest hit streak of the year to 11 games (16-for-45, .356).
Round Rock got three runs back from Hellweg in the fifth to pull back within a run at 5-4. The Express drew a pair of walks sandwiched around a Joey Butler double before Hellweg uncorked a wild pitch to bring in a run. Following a strikeout, Robinson Chirinos dribbled a run-scoring infield single up the third base line, which chased the right-hander from the contest. The third Express run came with reliever Jesus Sanchez on the hill on Rodriguez's two-out RBI single.
Hellweg did not factor in the decision after allowing four runs on seven hits over his 4 1/3 frames of work. He threw a Sounds season-high 112 pitches in the contest, issuing a season-high six walks to go along with five strikeouts.
Rehabbing left-hander Michael Kirkman (1-2), who retired 15 of his 16 batters faced to close out the game for Round Rock, picked up the victory with five hitless innings of work for the Express, fanning seven Sounds in the outing.
Morris was robbed of his team-leading 23rd homer of the year in the sixth when Joey Butler reached above the 6-foot high right field wall to make a catch.
The visitors pulled back in front, 6-5, in the sixth on Aaron Cunningham's two-out, two-run triple to right-center off Sanchez, who suffered his third blown save of the year.
Round Rock added an insurance run in the seventh against Sanchez on Adduci's sacrifice fly.
Sanchez (4-3) took the loss after giving up three runs in his 2 2/3 innings of work.
Right-handed reliever Dustin Molleken continued to impress for the Sounds, working two scoreless frames. In five appearances for Nashville, the fireballer has allowed only one hit and posted nine strikeouts in his 7.0 scoreless innings.
The Sounds embark upon their final road trip of the season on Wednesday, when they travel to the Albuquerque Isotopes (AAA-Los Angeles Dodgers) for the 7:35pm CT opener of a five-game series. Right-hander Jimmy Nelson (3-5, 3.78) will toe the slab for Nashville to face Isotopes right-hander Matt Magill (4-1, 3.04).
Box Score
Round Rock Express (69-62) 7, Nashville Sounds (51-80) 5
August 20th, 2013
1
2
3
4
5
6
7
8
9
R
H
E
Round Rock Express
0
1
0
0
3
2
1
0
0
7
14
1
Nashville Sounds
0
0
0
5
0
0
0
0
0
5
7
1
BATTING
2B: Solarte (31, Hellweg), Buchholz (12, Hellweg), Butler, Jy (23, Hellweg).
3B: Cunningham, A (2, Sanchez, Je).
TB: Adduci; Solarte 3; Cunningham, A 3; Chirinos; Rodriguez, G 3; Beltre, E; Buchholz 5; Butler, Jy 2.
RBI: Adduci 2 (57), Chirinos (40), Rodriguez, G (3), Cunningham, A 2 (45).
2-out RBI: Adduci; Rodriguez, G; Cunningham, A 2.
Runners left in scoring position, 2 out: Cunningham, A 3; Beltre, E 2; Adduci; Chirinos; Solarte.
SF: Adduci.
Team RISP: 4-for-17.
Team LOB: 12.BASERUNNING
SB: McGuiness (1, 3rd base off Sanchez, Je/De La Rosa, A), Chirinos (2, 2nd base off Sanchez, Je/De La Rosa, A).
CS: Adduci (9, 2nd base by Hellweg/De La Rosa, A).FIELDING
E: Rodriguez, G (3, missed catch).
PB: Chirinos (6).
Pickoffs: Feierabend (Velez at 2nd base).
BATTING
2B: Velez (8, Feierabend).
TB: Velez 3; Prince; De La Rosa, A; Parker, S; Gindl; Morris, H.
RBI: Morris, H (63), Parker, S (34), Davis, Ke (8), Prince (49).
2-out RBI: Prince.
Runners left in scoring position, 2 out: Velez.
Team RISP: 3-for-7.
Team LOB: 4.BASERUNNING
PO: Velez (2nd base by Feierabend).FIELDING
E: Prince (16, throw).
WP: Hellweg 2, Sanchez, Je.
HBP: De La Rosa, A (by Feierabend).
Pitches-strikes: Feierabend 60-40, Yan 5-5, Kirkman 60-37, Hellweg 112-60, Sanchez, Je 47-33, Molleken 31-21.
Groundouts-flyouts: Feierabend 4-2, Yan 0-0, Kirkman 4-2, Hellweg 4-1, Sanchez, Je 2-4, Molleken 2-1.
Batters faced: Feierabend 19, Yan 1, Kirkman 16, Hellweg 25, Sanchez, Je 14, Molleken 7.
Inherited runners-scored: Yan 2-0, Sanchez, Je 2-1.
Umpires: HP: Spencer Flynn. 1B: Pat Hoberg. 3B: Brandon Misun.
Weather: 86 degrees, partly cloudy.
Wind: 1 mph, Varies.
T: 3:22.
Att: 3,799.
Venue: Herschel Greer Stadium.
August 20, 2013