Written by Colby Wilson
APSU Sports Information

Clarksville, TN – Beginning the final year of college can be stressful for many students. There's another year of coursework to complete, sure, but there's also a massive job search looms at year's end for most graduates. For others, there are already bills to pay, with a mountain of student loans to pay off in the future.
Few also have elusive Ohio Valley Conference titles to chase while wondering if their professional soccer careers will keep them in the United States or take them to Europe, but not all students are like Natalia and Tatiana Ariza.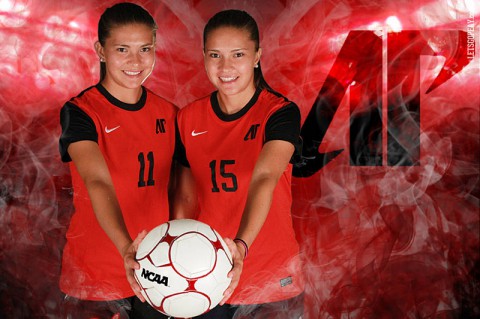 Since bursting onto the scene in 2010 with the first of two OVC Tournament championship appearances, the twins – both standing 5-3, both shy to the point that a 'hello' often sounds like a whispered secret – have been instrumental in the greatest three-year stretch in program history.
But despite accomplishments that include the 2012 OVC Offensive Player of the Year award for Tatiana and an Under-20 World Cup appearance for both she and Natalia, there's still unfinished business in Clarksville Tennessee.
"Getting to the championship twice and losing was really disappointing," said Natalia. "I think the rest of the conference really respects Austin Peay now. Expectations were lower when we got here, but people know that Austin Peay plays great soccer. This is our last season, so we're really trying to get the ring."
"Our expectations are pretty high," said Tatiana. "Our mentality is to go to the championship and win it this year. All the players that came here with us, I think we helped change the team's mentality – it was a culture shift that has continued. We want to make history at Austin Peay."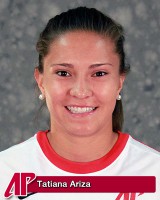 It would be the zenith of a whirlwind four-year period for the Colombian duo, who acknowledged how much they've grown since coming to Austin Peay from Bogota in 2010. Despite all the accolades and attention the pair have received in Clarksville and at home, the twins believe their college experience hasn't been too out of the ordinary.
"I've really enjoyed my experience," said Tatiana. "Playing in another country, playing a different style than I'm used to – those have been the differences. But we've learned to be independent, and that will help us in the future."
"I think being a soccer player and playing in the Olympics, maybe it's made us take school a little more seriously," said Natalia. "We focus on school and soccer. Playing on the national level, I think, has given us more discipline on and off the field."
The spotlight has always been on the twins since their arrival in Clarksville and the subsequent run to the 2010 OVC Tournament championship match. It burned even brighter when they both earned spots on the Colombian National team for the 2012 London Olympics.  Natalia started two of three matches for Colombia, while both twins were in the starting lineup against Team USA.
"Even though we're twins, we play such different positions for the national team that people were curious about it," said Tatiana. "Since we're both pretty shy, the attention was hard to deal with at first.
"We've been playing together our whole lives, so we have a great connection on and off the field. We think the same way. I think a connection like that helps the team."
On the field, Tatiana plays the role of dynamic scoring machine. She already owns Austin Peay's career records in points (98), goals (39) and assists (20); with two more points, she would become just the fourth OVC player to accumulate 100 career points, and the first since Eastern Illinois' Beth Liessen in 2003.
"A lot of people have high expectations for me, but I try not to think 'I have to score every game,'" said Tatiana. "I know I'll have a double-mark every game, so that makes it harder for me, but I know that gives Andy (Quiceno) and our other forwards more space and more opportunities."
Her sister is a stellar offensive player in her own right – 11 goals and 10 assists in her career leaves her sixth all-time with 32 points. But Natalia's impact on the field can't be measured by stats; from her perch in the midfield, she's responsible for hounding opposing team's top forwards as well as helping push the Lady Govs high-octane offense forward.
Despite netting just three assists last season, her impact on the defensive end was such that the conference's head coaches and sports information directors still elevated her to first-team all-conference status.
The sisters are trailblazers; when they return to Bogota during the summer, they're often asked by younger soccer players about their experiences in America.
"A lot of young players in Colombia want the same things we have," said Tatiana. "It's hard to study and play soccer at the same time in Colombia. Hopefully, we're helping other girls find a better future here."
Just like most college seniors, the twins are wondering about the future and their place in it. Unlike most seniors, their future employment are almost certain to begin on soccer fields in either Europe or America.
"We just want to enjoy our last season right now," said Tatiana. "We'd like to stay here to play professionally, but we just want to keep playing."
When they leave Austin Peay, the sisters know they will have had an experience very different from most college students, but one that's been better than they could have imagined.
"Our team is our family here," said Natalia. "We've had great teammates and coaches. We learned a lot that will continue to help us in life, on and off the field."