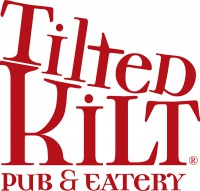 Tempe, AZ – Tilted Kilt Pub & Eatery raised $65,706 for Folds of Honor, which provides educational scholarships for dependents and families of fallen or disabled service members.
Tilted Kilt raised the funds during a six-week period as part of its third annual "Here's to The Heroes" promotion at all of its restaurants across the country. Customers had the option of donating an additional $1.00 or $5.00 to have their name written on customized paper dog tags displayed on restaurant walls.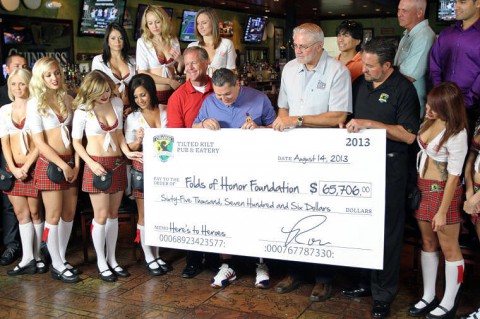 Tilted Kilt's promotional partner Anheuser-Busch also kicked in $10,000 to donate to the foundation.
Kilt President Ron Lynch and Anheuser-Busch representative Pierre Meric presented a check totaling $75,706 to Folds of Honor Senior Vice President Maj. Ed Pulido on August 14th at the Tilted Kilt in Tempe, AZ.
Clarksville's Tilted Kilt placed eighth in fundraising among 80 Tilted Kilt Pubs nationwide and the Tilted Kilt Pub in Tempe, AZ was the top fundraising pub nationwide.
"There is nothing greater than giving back to the men and women who have given so much to their country so that we can enjoy all the freedom we experience on a daily basis," Lynch said in a statement. Local Clarksville owner Jamie Daniel added "The Here's To The Heroes fundraiser had special meaning for us being located here with Fort Campbell and we couldn't be more proud of the Clarksville community for giving back to this wonderful foundation."
Clarksville's Tilted Kilt is located at 2790B Wilma Rudolph Boulevard.
For more information, visit www.tiltedkiltclarksville.com.