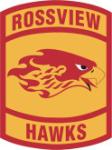 Clarksville, TN – Charles Talleyrand scored four touchdowns for Rossview High School, August 23rd, to lead the Hawks to a 28-14 victory over the Hillsboro High School Burros.
Talleyrand's scoring runs came from 17, 35, 1 and 5 yards out, but it was his third touchdown of the game – at the 4:53 mark of the third quarter – that broke a 14-14 tie and put the Hawks up for good, 21-14.
Rossview would add an insurance score by Talleyrand at the 1:35 mark of the third quarter to make it a two-score lead for the Hawks.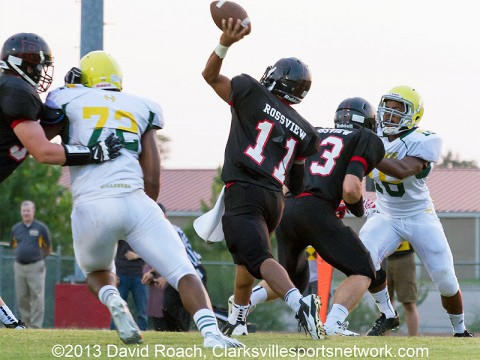 But Talleyrand wasn't the only Hawk to have a big night for Rossview, as Isaiah Johnson ripped the Burros for 173 yards on the ground, on 17 carries, most of which came in the second half when the Hawks offense was wearing down the Hillsboro defense.
The Hawks defense also did its part, forcing three Burros' turnovers – including Dillon Johnson coming up with a fumble recovery and an interception in the second half.
Hillsboro's lone score in the second half tied the game 14-14, at the 9:20 mark of the third quarter, with Malique Fleming scoring on a 13-yard run, with Porter Streator scoring a two-point conversion on a pass from Michael Hughes.
In the first half, Hillsboro played most of the opening quarter on the Hawks side of the field – running 12 of its 14 offensive plays past the Rossview 50.
Still, it would take the Burros three possessions until it was finally able to get into the Hawks end zone, with Hughes sneaking the ball in from the 1-yard line for a touchdown, with 35.3 seconds left in the first quarter.
The extra-point attempt was blocked and Hillsboro led 6-0 after the first 12 minutes of play.
Both teams struggled to move the ball early-on in the second quarter, but Rossview got its first real break of the game, when Hughes was stripped of the ball for a fumble, with Rossview's Wes Boone falling of the ball and giving the Hawks possession at the Burros 29 yard line.
Rossview wouldn't let their golden opportunity slip away, as four plays later, with Talleyrand breaking through the Hillsboro defense and rumbled 17 yards for the tying score – with 4:27 left in the first half – with Christian Kubas' extra-point kick giving Rossview its first lead of the game, 7-6.
The Hawks defense would force Hillsboro to punt on its next drive, giving Rossview great field possession at the Burros 32 yard line.
Three plays later, Talleyrand would dash 35 yards for his second touchdown of the game, with 1:03 left before intermission and a 14-6 lead.
Rossview returns to action on August 30th, as they host McGavock High School (1-0), who defeated Tullahoma High School in the opening week of action.
Box Score
Rossview 28, Hillsboro 14
| | | | | | |
| --- | --- | --- | --- | --- | --- |
| | 1 | 2 | 3 | 4 | Final |
| Hillsboro | 6 | 0 | 8 | 0 | 14 |
| Rossview | 0 | 14 | 14 | 0 | 28 |
Scoring
First Quarter
H—Michael Hughes 1-yard run (kick failed), 35.3
Second Quarter
R—Charles Talleyrand 17-yard run (Christian Kubas, kick), 4:27
R—Talleyrand 35-run (Kubas, kick), 1:03
Third Quarter
H—Malique Fleming 13-yard run (Porter Streator pass from Hughes), 9:20
R—Talleyrand 1-yard run (Kubas, kick), 4:53
R—Talleyrand 5-yard run (Kubas, kick), 1:35
Stats
| | Hillsboro | Rossview |
| --- | --- | --- |
| First Downs | 10 | 13 |
| Rush Att.-Yards | 25-49 | 46-254 |
| Pass Yards | 137 | 1 |
| Total Offense | 186 | 255 |
| C-A-I | 12-26-1 | 2-7-0 |
| Punts-Avg. | 4-28.3 | 4-26.3 |
| Fumbls Lost | 4-2 | 4-0 |
| Penalties-Yards | 8-78 | 6-53 |