Clarksville, TN – Two men were arrested on robbery charges Thursday, September 5th immediately following the incident after the victim was able to quickly notify authorities and provide detailed description of the men.
Rodney Ledeandre Cole, 33, who gave a Whitland Crossing, Nashville, Tennessee address and Sheron Ray Ladd, 27, who gave a Summit Heights address were charged with aggravated robbery, evading arrest and resisting arrest and criminal facilitation of a felony, respectively. Their bond was set at $130,000 and $100,000 respectively.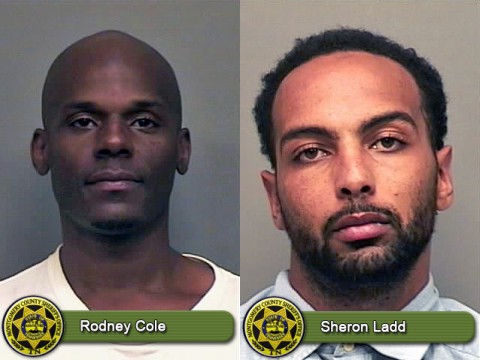 The victim said Cole forced her out of her vehicle at gunpoint and took the vehicle, along with all her possessions inside of it.
"The victim did exactly what you're supposed to do in a situation like this," said Investigator Fred Smith. "The man asked for keys to her car, she gave them to him and called 911 at a neighbor's house."
The victim relayed detailed information about the suspects, the vehicles involved and what exactly was inside her vehicle when it was taken. That information was relayed to Clarksville Police Department and Tennessee Highway Patrol.
"It was a great joint effort," Smith said, adding that a CPD officer spotted the vehicles and was able to apprehend one suspect, while the other fled. The other was later apprehended by a CPD officer as well.
"Because of exemplary work by our Deputies and Officers with CPD, we were able to resolve this quickly," Smith said.
Rodney Cole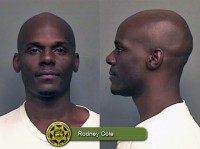 Name: Rodney Ledeandre Cole
Date of Birth: 11/ 8/ 79
Gender: M
Race: B
Address:  3051 Whitland Crossing Drive, Nashville, TN
Arresting Officer: Fred Smith
Charged With: Aggravated Robbery, Evading Arrest, Resisting – Evading, Arrest, Stop, Frisk, Halt, Search
Booked Into: Montgomery County Jail
Bond: $130,000.00
Sheron Ladd
Name: Sheron Ray Ladd
Date of Birth: 2/ 24/ 86
Gender: M
Race: B
Address:  353 Panarama Drive, Clarksville, TN
Arresting Officer: Fred Smith
Charged With: Facilitation of a Felony
Booked Into: Montgomery County Jail
Bond: 100,000.00