Clarksville, TN – Two late goals from freshman Gina Fabbro allowed Austin Peay State University's women's soccer team to overcome a second-half deficit to remain unbeaten, defeating St. Bonaventure, 3-2, at McGraw-Jennings Field.
Austin Peay (5-0-1) runs its season-opening unbeaten streak to a program-best six games, with Sunday's match at Buffalo the only remaining nonconference tilt. St. Bonaventure falls to 1-4-1 on the season.
"I'm proud of how well we battled," said head coach Kelley Guth. "The game changed in their favor for a while and we didn't adjust to their pressure as well as we needed to. To our girls credit, they fought hard until the end."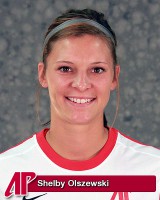 Junior Shelby Olszewski got Austin Peay on the board first with her season's second goal. Playing the ball in after a corner kick, senior Corey Osborn found the Pickerington, Ohio native and gave Austin Peay an early lead. The early goal has become a staple of the Lady Gov arsenal; Austin Peay has scored its opening goal with less than 11 minutes off the clock in four of its six 2013 matches.
Although St. Bonaventure's Abby Maiello would blast a shot off the crossbar in the 11th minute and force a 43rd minute save out of Austin Peay keeper Nikki Filippone, the Bonnies offense would pose little threat to the Lady Govs in the opening 45 minutes. Despite a mere 6-4 shooting advantage, Austin Peay put five shots on net in the opening half and forced four saves, including three in the final six minutes.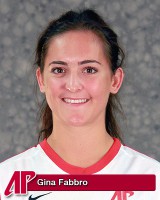 The Bonnies would go on the attack early in the second half, netting goals in from Alyssa Lapp (59th minute) and Molly Curry (73rd minute) to take a 2-1 lead. It marked the latest point in a match where Austin Peay had trailed an opponent in 2013.
However that deficit would be short-lived. The Lady Govs got a Canadian connection from countrywomen Courtney Sheppard and Gina Fabbro, who teamed up for Fabbro's fourth 2013 goal to draw the Lady Govs back even.
It would be Fabbro who eventually found the back of the net on the game-winner, taking a feed from senior Tatiana Ariza – who was held without a goal for the second game in a row – at the back post and burying it on a half-volley from right in front of the net. For the Coquitlam, British Columbia native, the goal was her third game-winner in six matches as a Lady Gov.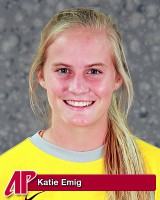 "Gina played outstanding," Guth said. "She worked extremely hard for both goals. Her first goal shifted momentum back into our favor, but they (St. Bonaventure) kept working as well; they're a really good team."
Sophomore Katie Emig got the win, making four saves while allowing two goals in the second half. The Bonnies Megan Junker made seven saves in the loss.
Austin Peay concludes its four-match road trip with a 10:15am (CT) match at Buffalo before returning home for the Ohio Valley Conference opener against defending OVC Tournament champion UT Martin, 7:00pm, September 27th, at Morgan Brothers Field.