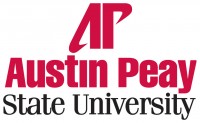 Clarksville, TN – Faculty and staff members at Austin Peay State University recently announced a number of publications, conferences and credentials as part of their professional and scholarly activities.
Michele Tyndall, project manager in the APSU Office of Public Relations and Marketing, and Dr. Melony Shemberger, former assistant director of communication at APSU, will present a session at The Council for Advancement and Support Education's District III Conference in Orlando, FL, this February. Shemberger now is assistant professor of journalism at Murray State University.
The presentation, "Something Special: Collaborating to Customize Material to Target New Donors," will examine APSU's recent efforts to introduce the application of personalized print and digital communication for specific donors to the development office.
Many universities use this concept in their admissions and student recruitment practices, but such communication is new to development and fundraising.
Tyndall and Shemberger worked closely with APSU's Advancement Office to create several successful development pieces in this format.
Dr. Chinyere Ogbonna-McGruder, APSU Associate Professor of Public Management/Criminal Justice, presented her research paper, "A Synopsis of the Patient Protection and Affordable Care Act of 2010," at the 2013 Intellectbase Multi-Disciplinary Academic Conference in Kuala Lumpur, Malaysia.