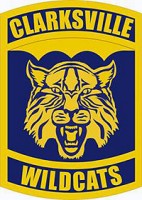 Clarksville, TN – Clarksville High School's girls soccer team scored four goals in each half, October 14th at Hilda J. Richardson Field, in picking up its second straight District 10-AAA title, with an 8-0 victory over Rossview High School.
With the win, the Lady Wildcats (17-2-2) will host a first-round Region 5-AAA tournament game on October 22nd against the runner up of District 9-AAA, while Rossview (9-5-3) will travel to the champion of District 9-AAA.
"We like playing at home," Clarksville High coach Jeff Jordan said. "That's something that we're proud of and a championship is always wonderful."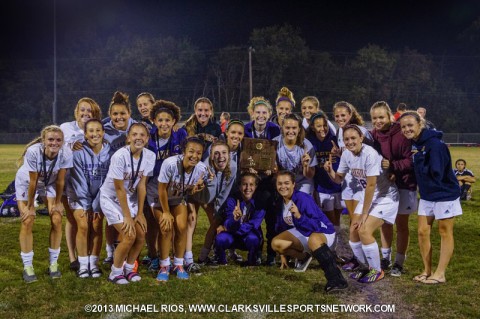 It wouldn't take long for the Lady Wildcats to get on the board, as three minutes into the match Salera Jordan played a through ball to Gybson Roth, who found the back of the net for a 1-0 lead.
Clarksville High would make it 2-0 in the 17th minute with Ella Baggett playing a through ball to Amber Colvin, who beat Lady Hawks keeper Molly Barnes.
"I thought we played very well tonight," Jordan said. "Rossview always plays hard and tough, but it's hard to continue to play tough when the other team get an advantage like we did."
The Lady Wildcats would for all intensive purposes put the game away in the final six minutes of the first half, as they scored twice to go up 4-0 at intermission, with Kelsey Greiff scoring off a deflection and Jordan off an assist from Autumn Copeland.
"I don't think our mentality was right tonight," Rossview coach Daniel Paschedag said. "We were too worried about them scoring and we stepped back and gave them the space they needed play.
"You have to go into games like this with a win mentality and not a 'we don't want to lose mentality'. I think that was a key to the game."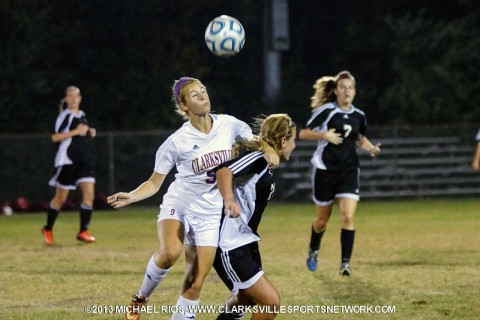 The second half would see the Lady Wildcats start up right where they left off, as four minutes into the second half; Jordan dribbled the ball deep into the Lady Hawks defense and score for the second time on the night.
The final three Clarksville High goals came in a six minute span between the 53rd and 59th minutes, with Baggett scoring an unassisted goal (53rd minute), Colvin – for her second goal of the match — on a cross from Baggett (54th) and Alexis Hayes on a cross from Roth (59th).
Overall, Clarksville High held a slim 12-11 advantage on total shots, but eight of its 10 shots on goal found the back of the net, while the Lady Hawks only recorded four shots on goal.
"We're usually a very efficient team," Jordan said. "We weren't the other night against Northeast (High School), so the game stayed a lot closer than it should have been."
The All-District 10-AAA regular season and all-tournament teams were also announced after the match.
Colvn, Jordan, Baggett and Justis Bailey earning regular-season honors for CHS, and were joined by Rossview's Adriana McClure and Payton Atwell.
Rounding out the regular-season all-district team were from West Creek-Della Bowen, Allison LeJeune and Haley Claiborne; from Northeast-Diya Daswani and Abriella Arqueta; from Kenwood-Mia Boykin; from Northwest-Micayla Wilkins; from Springfield-Katie Shoup and from Henry County-Rachel Ayers.
Two CHS players also picked up Player of the Year honors, with Baggett earning Offensive Player of the Year and Bailey Defensive Player of the Year.
Named to the District 10-AAA All-Tournament team were: From Clarksville High-Roth, Greiff, Ali Gries and Clare Grady; from Rossview-Kayle Grimes, JoBeth Collins and Madison Stephens; from West Creek-LeJeune and Abbie Madden; from Northeast-Arqueta and Tennessee Barlow; Kenwood-Amber Pack; from Northwest-Wilkins; Katie Cook; and from Henry County-Sakura Horiuchi.
Photo Gallery