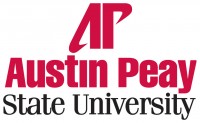 Clarksville, TN – Last year, members of Austin Peay State University's Society of Physics Students (SPS) chapter sent an email to the national organization, loaded with 45 megabytes of attachments.
Somehow, the email made it to College Park, MD, where officials probably spent weeks wading through hundreds of images and documents detailing all the activities the APSU club, known Del Square Psi, had participated in throughout the year.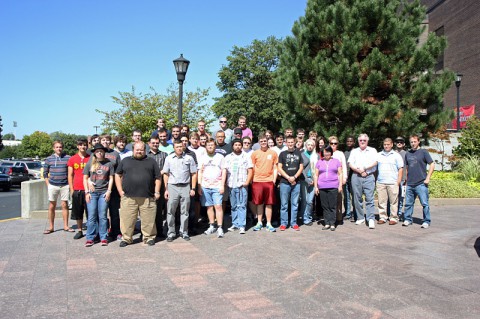 Late last month, the national organization named Del Square Psi as an Outstanding Chapter for a zone that extends throughout most of Tennessee and up into Kentucky, Indiana and Illinois. Only three out of approximately 30 student chapters received this distinction.
"The other two in our zone are Louisville and the University of Tennessee, Knoxville, which, based on student body, they dwarf us," Chris Hayes, chapter president, said. "So, for us to win, it shows we're extremely active. Per capita, we have more people in our organization than they do."
Del Square Psi was founded at APSU 50 years ago, in 1963, and the last time it received the "Outstanding Chapter" distinction was for the 2005-2006 academic year. But last year, club members made a concerted effort to be a presence in the local community.
"One of the biggest questions in physics right now is how do we communicate to the general public what we do? Because a lot of people don't understand our field," Hayes said. "Even if the community doesn't understand some of the physics research that is going on, they will appreciate physics simply because they see us involved within the community. We aspire to help the community in many different ways."
The chapter does that through its participation in numerous events, such as a local chili cooking contest or APSU's popular "Great Halloween Options for Safe Trick or Treating," or G.H.O.S.T.
"The biggest thing they do is outreach activities," Dr. Spencer Buckner, APSU associate professor of physics and co-advisor of the club, said. "We go to schools, or sometimes we'll get schools to come here. We went to the library here last weekend for science fiction night. We do tailgating. We go to AP Day to meet with incoming students."
"We host sessions out at the observatory," Dr. Allyn Smith, APSU associate professor of astronomy and chapter co-advisor, added.  "The club seems to attract the better students, the ones that will be more active in the department."
The club is being honored for its 2012-2013 academic year, when APSU physics student Robert Baker served as president. Hayes and the two advisors said they plan to send an even larger email to the national organization next year, detailing the chapter's activities.
"We've been more active this year, so expect to win again," Buckner said.
For more information on Del Square Psi, contact Buckner at .