Youth Gain Self Esteem Through Fashion Show Gala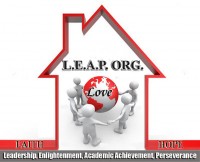 Clarksville, TN – Tuesday, January 25th, 2014 marked the 1st Annual LEAP Charity Fashion Show Gala at the Emmanuel Family Life Center.
Youth modeled the fashions of local designers such as ELO, Molerevon, Sacer & Savive, Heaven Sent Bowtique, Filthy Rich Celebrity Jewelry, and E & S Fashions with Gem's Hair Salon and Eyetunes donating their time to provide participants with hair and makeup makeovers. While some students modeled, other students prepared the food and served guests.
City Councilman Marc Harris, Attorney Kevin Kennedy, and Montgomery County Trustee candidate Brandi Bryant with several other community and business leaders ripped the runway alongside the youth.
"I really enjoyed participating in the event, but the real treat was seeing the excitement of the kids backstage!" commented Brandi.
One of the factors that may affect girls' self-esteem are the unrealistic and unattainable images of beauty are paraded in front of them through various media outlets. This event showcased diverse youth of various sizes and colors as well as those that possessed disabilities.
"I used to be really shy and a little insecure, and am still kinda shy around new people, but I feel more confident about my looks. I thought I would have been nervous getting on stage in front of strangers, but the people made me feel welcomed and like a beautiful celebrity" expressed one of the youth participants.
"It really takes a community effort to take our young people back as our community did on Saturday. The comments I got from the youth were unreal and brought tears to my eyes. They were so happy and want to know when we can do it again! I saw self-esteem established, young girls and men helping each other out and lending a hand behind the scenes to make the fashion work without being asked," shared Sharon Edwards, the Fashion Show coordinator.
Proceeds from this event went to support Leap in its mission is to strengthen families and develop youth by providing holistic mentoring, counseling, career development, tutoring, and community service learning opportunities for youth.
"I was so amazed at how the small business and corporate sectors really came through to support this event through food and silent auction donations," commented LEAP Resource Coordinator Gladyn Minzey.
Some of the sponsors and contributors for this event were Carol & Frank Daniels III Foundation, Clarksville Family Therapy, The Gafney Group, InfiniD Studios Chic-Fil-A, Walt Disney, Papa Murphy, Walgreens, Starbucks, Red Lobster, Rafferty's, Pet Palace, Old Chicago, Papa John's, O'Charley's, Shoney's, Chili's, Ann Marie's, Looking Glass, Target, Graceland, Gold Factory, Lifeway, Riverview Inn, Titanic Museum, Pulling Strings, Atlanta Braves, Perfume Paradise, Flyscenic, APSU, Subway, Logan's, Trendsetters Salon, China King Buffet, Warfield Dental, Cracker Barrel, Dollywood, Westgate Resorts, Stardom Entertainment, The First Center Visual Arts, R&R Marketing Rock City, Mammoth Cave Wildlife, Stewart Williams Company, George the Cake Man, Canyon Road Steakhouse, Legacy Security Group, Delta Psi Chi Fraternity Inc, and the Emmanuel Family Life Center.
For more information on how to get involved with Leap and its positive youth development movement visit www.leaporg.net