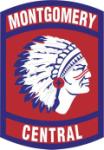 Clarksville, TN – Montgomery Central High School's baseball took advantage of some early wildness from Northwest High School's pitchers, April 10th in the opening day of the William Workman Tournament at the Clarksville High School's baseball field, to score seven first-inning runs on its way to a 11-8 victory over the Vikings.
The Indians (7-11) only recorded two hits during the scoring outburst, but those hits combined with three walks, two hit batters and two Viking errors led to a quick 7-0 advantage for MCHS.
"We've been struggling a little bit lately and we've got a very young team," Montgomery Central coach Todd Dunn said. "We only have three seniors and we've been struggling with having one or two bad innings, but it was good to come out tonight and have a big inning against Northwest and have a little bit of a pad if we did have a bad inning later in the game."
Jesse Beck would drive in two runs in that first inning for the Indians, with a double, while T.J. Sauers also had a RBI single.
Also driving in runs in that opening frame for Montgomery Central were Devin Prewitt on a bases-loaded hit by pitch, Clayton Walker on a bases-loaded walk and Santino Miranda on a fielder's choice.
The Indians would make it 8-0 by adding a run in the second inning, with Zach Slay opening the inning with a double and two batters later score on a sacrifice fly to center field by Walker.
Northwest would get on the scoreboard in the top of the third inning, scoring a pair of runs on a two-RBI single by Johnny Price to make it 8-2 Central.
Montgomery Central looked like it put the game away in the bottom of the fourth inning, scoring three more times, to push its lead out to 11-2.
Prewitt and Sauers would have RBI singles in the fourth inning, with the third run came in on a sacrifice fly by Miranda.
But Northwest didn't go quietly, as they answered back with a big six-run inning of their own to get back to within three runs, 11-8.
"We've been fighting a little bit of a hole this entire year and it's good to see our guys, who don't have a lot of wins this year, come back from an eight nothing start and fight to put together a decent game," Northwest coach Daniel Stephens said. "We made it a competitive game and that's what you want.
"You want to be competitive and have a chance at the end to win and we did that today and we told them after the game we were proud of the way they fought back and gave themselves a chance."
Northwest's final run came in the sixth inning, aided by two Montgomery Central errors for the 11-9 final.
The Vikings will continue play in the tournament, April 11th, as they go up against Tullahoma High School in a 7:30pm contest at Northeast High School's baseball field.
Montgomery Central returns to tournament action on April 12th, as they face Station Camp High School at 11:00am at Rossview High School's baseball field.
Photo Gallery