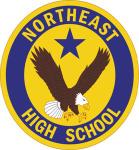 Clarksville, TN – Senior Night for the Northeast Eagles baseball team ended in dramatic fashion. In the bottom of the ninth inning, Eric Webster scored the game-winning run off a ground ball hit by Landon Dennis for the Eagles. The Eagles defeated the Sycamore War Eagles 5-4.
Northeast's Benji Burchwell (3-1) got the win. He pitched three innings. Matthew Heggie struck out five in six innings of work on the mound.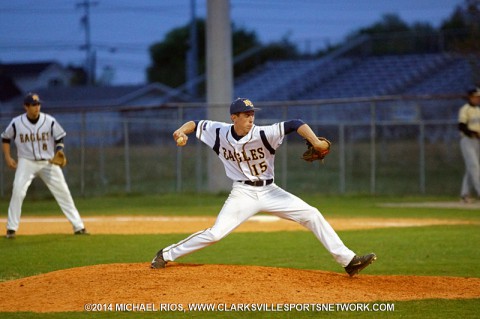 Sycamore's Bailey Baker was tagged with the loss. He pitched 2 1/3. Adam Clanton pitched six innings and struck out six.
Scoring runs in the second and third inning, the Eagles had control of the game until the fifth inning. In the fifth, Sycamore scored four runs to take the lead.
In addition to pitching, Baker went 2-for-4 at the plate. War Eagle catcher Michael Brown hit 2 RBI in the fifth to help Sycamore take the lead.
The Eagles rallied in the bottom of the seventh to tie the game. Devin Runkle batted 4-for-4 in the game including the game-tying RBI single in the seventh. Justin Collins also had a stellar night offensively, batting 3-for-3.
Burchwell and some clutch defense did their job, holding Sycamore to no hits or runs in the eighth and ninth innings. From there, it came down to the determination of the Eagles to let their seniors end their high school careers at home with a win.
The win improves Northeast to 21-9-1. Sycamore falls to 18-10.
Next, the Eagles will play at Clarksville High School Friday, April 25th in a crucial District 10-AAA match up.
Photo Gallery
Box Score
| | | | | | | | | | | | | |
| --- | --- | --- | --- | --- | --- | --- | --- | --- | --- | --- | --- | --- |
| | 1 | 2 | 3 | 4 | 5 | 6 | 7 | 8 | 9 | R | H | E |
| Sycamore War Eagles | 0 | 0 | 0 | 0 | 4 | 0 | 0 | 0 | 0 | 4 | 11 | 3 |
| Northeast Eagles | 0 | 1 | 1 | 0 | 0 | 0 | 2 | 0 | 1 | 5 | 13 | 1 |