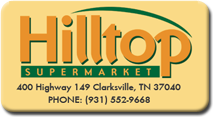 Clarksville, TN – Hilltop Super Market kicked off their 5th annual BBQ Cook off Friday, May 2nd with a wing cooking contest and a hot wing eating contest. The weather was perfect, slight cloudy, warm with a slight cool breeze. Good weather for outdoor cooking.

Contestants for the BBQ Cook Off were setup, ready for tomorrows contest. Some were cooking and selling to those in attendance.

The Palmyra Volunteer Fire Department was selling BBQ and signing people up for Saturday's Cornhole Tournament. Back Lot Pickers, a local favorite, provide the music for the evening.

One of those in attendance was 78 year old Charles Hinton, the oldest surviving Sheriff Deputy in Montgomery County. He joined the force in 1957. He still has the original badge given to him by Joel Plummer, when Plummer was Sheriff.

"This is our second year at this event. We just love it. We have been here since about 7:00pm last night," stated Dwight Byard with Tennessee Double D's BBQ. "We are also volunteers for the Palmyra Fire Department. We cooked all the butts their serving tonight."

"I think this event is awesome. We travel around cooking at different ones, pro events and stuff. But this is one of our favorite ones," said Tim and Barbara Rigdon with Rigdon's Championship Bar-B-Que. "It's a good event for the community. Everybody that comes to cook at an event like this is having a good time. It's a laid back competition, but yet there is still competitiveness to it."

"We're here tonight at Hilltop Super Market having a great time. We sanction and put on cooks. A lot of our friends are out here tonight. They have a nice thing going here. Hopefully we will have a good showing tomorrow with our barbeque," said James Brawner co-founder of Tennessee Barbeque Association and with the Grillin' & Chillin' Cookin' Team out of Springville, TN. "Saturday night at 8:00pm, I will be debuting on Destination America's BBQ Pitmasters."

"I have done twelve events and this is my favorite one. Everybody is just so friendly with other. A lot of the teams know each other. It's just an awesome event. The Super Market is great. It has everything we need. We're just thrilled to be here," stated Lisa and Mat Rooks with Serious Hog Barbeque from Springhill, TN.

Montgomery County Sheriff John Fuson said, "I just thing this right here is what community is all about. You have Hilltop CB Foods here that puts things like this on all the time. It just brings the community together. It's always great to see everybody together and having fun with the chicken wing contest to see who can cook the best and the chicken wing eating contest."

Twelve teams took part in the wing cooking contest. Wings were judged for appearance, taste and texture. I was selected to be one of the judges. All of the wings were tasty, moist and bursting with flavor.

After the judging sheets were tallied, Custom Cookers came in first place, followed by Trackside BBQ in second and The Spice is Right in third.
Wing Team Placement
Custom Cookers
Trackside BBQ
The Spice is Right
Grillin & Chillin – Springville, TN
Double A BBQ
Serious Hog
3 Star BBQ
Tennessee Double D
Big Orange Smokers
Big B BBQ
Midnight Smokers
Grillin & Chillin
"The wings were great. A couple of them really lit me on fire. The first time I've had anything that hot in a long time. The wings were excellent. The cooks were excellent. They were all very good. There's nothing like a good homemade wing," said Fuson.
The wing eating contest started a minutes after the cooking contest ended. Ten people competed to see who could eat the most hot wings in 5 minutes. The go was giving, every the contestants dug into the pans of hot wings sitting before them. After a couple of minutes, a few started to slow down and sweat could be seen beading on their brow.
In the end, it came down to a close race between local Brian Morrison with Big B's BBQ and Kyle "The Hammer" Hanner from St. Louis, MO. It was so close, the judges had to take the bones into the judging area and double check them, which included how much meat was left on the bone. The final count gave Hanner the win with 17 wings eaten compared to Morrison's 16.
"The wings were good. They were a little hot. They had a little kick to it but they were good wings, taste wise," said Hanner. "This is all training for a big contest I have in Maryland on the 11th. There are going to be some Pros there. This was good training for that."
"Events like this are a great opportunity for the community to come together. We dont see it enough. Anything we can do that gets people together and gets people to know one another is just great. A good community event," stated Fuson.
Everything continues tomorrow. Palmyra Volunteer Fire Department's Cornhole tournament will be going on Saturday morning. The BBQ Cook Off will be going on as well with the first turn in time, for chicken, at 12:00pm. There is plenty of things to do and see so come out and enjoy the nice weather and some great BBQ.
Photo Gallery
Sections
Arts and Leisure
Topics
Back Lot Pickers, BBQ Cook Off, Big B's BBQ, Brian Morrison, Clarksville, Clarksville TN, Cornhole Tournament, Custom Cookers, Grillin' & Chillin', Hilltop Super Market, James Brawner, John Fuson, Maryland, Montgomery County Sheriff, Palmyra Volunteer fire Department, Springville TN, St. Louis MO, The Spice Is Right