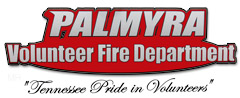 Clarksville, TN – The Palmyra Volunteer Fire Department held their 2nd Annual Cornhole Tournament Saturday, May 3rd at Hilltop Super Market.
The weather was warm, with clear skies and a slight wind that gusted at times making some of the games more challenging. It began at 8:00am during Hilltop's BBQ Cook-Off.
The Tournament consisted of two person teams with the 1st place winners receiving $100.00 and a trophy.
Early registration was $25.00 per team and $35.00 per team day of the event. Registration the day of the tournament began at 7:30am.
Mike Sykes and Gary Ferguson were the winners of the Cornhole Tournament.
"It's always a good event. Everybody seems to like it. I hope more people can come out and play next time," stated Gary Ferguson.
After it was over, most of the players wanted to go again, so a second tournament was setup. Everyone had a good time, despite the wind picking up more.
"I thought the tournament went pretty well. We didn't have quite the turnout we hoped for, but the guys that showed up seemed to have a good time. We got a couple of tournaments in. Everybody had fun and that's mainly what we care about," said Jason Smith with the Palmyra Volunteer Fire Department.
Upcoming Events
Pork Chops Lunch Plate
Mashed Potatoes, Mac-n-Cheese, Beans & a Roll
A fundraiser being held at Baggett's Chapel to support the Youth Ministry on Friday, May 9th from 10:30am until 11:30am. The plates are $8.00 each.
Pickup or Delivery.
Place you order today! Call Andy at 931.721.6035
Baggett's Chapel is located at 4950 Logan Road, Cunningham, TN.
Palmyra Volunteer Fire Department Annual Fish Fry
A fundraiser to help the Palmyra Volunteer Fire Department being held Saturday, June 7th from 3:00pm until 7:00pm.
Catfish, white beans, coleslaw and a hush puppy, $8.00 per person
Pickup is at the fire station located at 3283 Harris Circle, Palmyra, TN.
For more information or to place an order contact Laura Hughes at 931.338.4103.
 Photo Gallery