Fort Campbell, KY –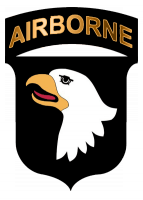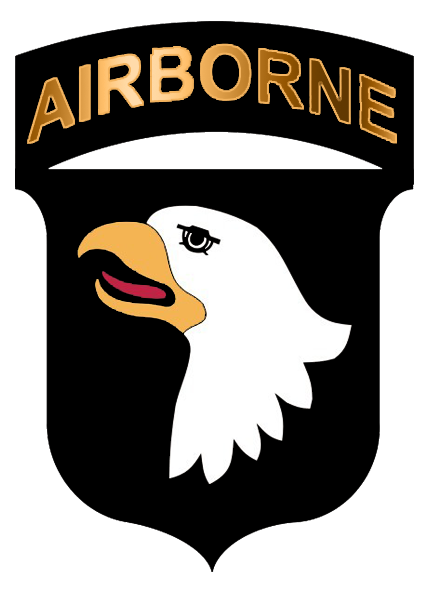 On Memorial Day, the 101st Airborne Division on Fort Campbell held a wreath laying at the 101st Airborne Division Headquarters honoring the soldiers from Fort Campbell who have given their all, in the service of their country.
87 year old Clarksville resident Gene Paladin, was on hand for the ceremony. A veteran of 3 wars, he landed in Europe with the 82nd Airborne during WWII, served in the Korean war, and did three tours with the in Vietnam with the 3rd Brigade Combat Team "Rakkasans" of the 101st Airborne Division. He is one of the few remaining living solders who were qualified for the U.S. Army Airborne Glider Badge which he still proudly wears on his hat. He came close to skipping this years ceremony due to health issues, but he said that was glad he came.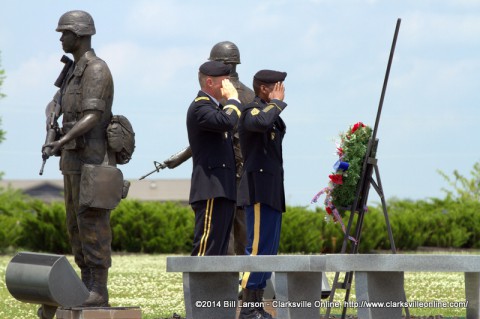 The American flag was raised to start the ceremony, and a short benediction was given.
Almighty God on this Memorial Day we gather together, we humble our hearts, and we bow our heads in honor of our heroes; those who given the last full measure of devotion. And Lord today we pledge to remember their sacrifice not just today but every single day.

Lord we also gathered together to honor the families, the loved ones of those who have heard freedoms call, and paid freedoms great price so that we could enjoy freedoms reward. And Lord we also salute those all of those who have worn the uniform of this great nation.

Lord we ask that you would bless them, bless our soldiers, bless our families, bless our Army, and Lord bless our great nation. May it ever be strong may we ever be free

For it is your name we pray, amen!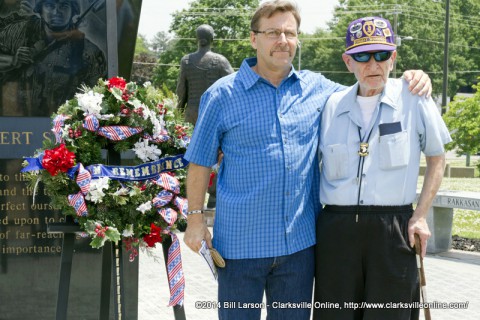 Next up was Maj. Gen. James C. McConville, the commanding general of the 101st Airborne Division "Air Assault".
Maj. Gen. James C. McConville, the Commander of the 101st Airborne Division addresses the attendees

It is important that we're here today. It is important today on Memorial Day, and every day that we never forget the sacrifices of our fallen heroes.

As I walked down the hallway of the Memorial Aerie on the ground floor of our headquarters right behind you were all the names of our fallen Screaming Eagles from Normandy to today are solemnly etched on the Memorial wall. I wondered what our world and what our nation would be like without the sacrifice of all those great Screaming Eagles, without the sacrifice of so many great American heroes.

I don't know nor do I wish to imagine, but what I do know is that we are very blessed that so many great men and women have served that so many great men and women have sacrificed yesterday so we can live in freedom today.

Mayor Kemp, Bill Harpel, community leaders, champions of Fort Campbell, soldiers and veterans of the 101st , distinguished guests, and most importantly of Gold Star family members. I stand humbly before you today as we honor the memory and the legacy of those have fallen in defense of our great nation while serving with the screaming Eagle division.

Thank you all for attending the ceremony to honor our fallen heroes. In the 101st Airborne Division it's a privilege to serve daily in the company of heroes, and it's an honor to be here today with so many who understand that freedom is not free.

Memorial Day originally called Decoration Day has always been a solemn Day of National Remembrance. Although solemn, it is not a day of mourning; but a day of reverent celebration. It is a day we honor and pay tribute to all men and women who made the ultimate sacrifice in defense of this great nation. From the American Revolution to the present millions of American men and women have answered the call of duty, and sacrificed much in service of our country.

Early next month members of the 101st Airborne Division will travel to Normandy to commemorate the 70th anniversary of D-Day. We will honor and pay tribute to those who served during World War II and wrote their initial chapters of valor of our division's fabled history and establish the proud legacy that we strive to live up to.

Last week we paid a special tribute to our Vietnam veterans who added additional chapters of valor to the history of our division. And today I think it's important that we also honor our current generation of heroes so I want to pay special tribute to those who gave all in Iraq and Afghanistan. They have made the sacrifice just like all of those heroic Screaming Eagles who have gone before them. Like their predecessors they've given others a better chance for freedom, and a brighter opportunity for the future.

While we pause today to honor those who have gone before us, let us also remember those who are currently serving in harms way. At this moment there are thousands of screaming Eagles currently serving in Afghanistan, and other dangerous places around the world.

And finally let us remember those who carry on for those who have fallen, our Gold Star families. Mothers and wives, husbands and fathers, sons and daughters, of the best among us. Those who also have paid the ultimate sacrifice in their service to our country. Honor them and let them know we're all grateful for the support they gave their soldiers, and the sacrifice they made to the nation. We're grateful they carry on the soldier story, and we're committed to honoring their loved ones.

And so as I close, I know that many of you will depart here to enjoy cookouts, parades, and family gatherings. And you should. I ask that if you are given the opportunity, that you take a moment to explain the significance of this holiday to your friends, and loved ones. Today is a day to honor the sacrifice of those who have defended this great nation we enjoy. A day to breathe life into valor, that is often lost to us as the years passed by. It is a day to tell the stories of the soldiers of battlefields in decades past, so that the soldiers of yesterday and today are never forgotten by the Americans of tomorrow.

God bless our fallen screaming Eagles, our Gold Star families, and those serving in harms way, and this great nation. Air assault and Army strong.
Maj. Gen. James C. McConville and Command Sgt. Major Alonzo J. Smith placed the wreath. Taps was played by a Bugler  from the 101st Airborne Division Band, and a 21 gun salute was fired by the honor guard in the memory of those in whose name Memorial Day was dedicated for.
Photo Gallery