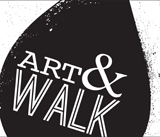 Clarksville, TN – The June Art Walk will be held June 5th from 5:00pm to 8:00pm at the shops and galleries on Public Square, Franklin Street, and Strawberry Alley. The participating businesses are listed below as well as a description of the work they will be exhibiting and services they will be offering during the event.
Produced by The Downtown Clarksville Association, First Thursday Art Walk is a free, self-guided tour spanning a 5-block radius that combines visual art, live music, engaging events and more in the heart of Downtown Clarksville.
With 10+ venues, bars and businesses participating each month, the First Thursday Art Walk in Clarksville is the ultimate opportunity to savor and support local creative talent.
The Downtown Artists Co-op (96 Franklin Street)
The DAC is an association of talented local artists and interested patrons dedicated to promoting the visual arts in the Clarksville/Montgomery County area. Our objectives are to sponsor art exhibitions of work by Co-op members and regional artists, to provide continuing support for the Co-op and its membership through the sale of art work, to encourage arts education with outreach programs and scholarship fundraisers, and to develop membership services which directly support the arts community.
Artist Information
The June art show at the DAC will feature Beverly Parker's work entitled "Alternative Perspectives." It is a collection of Polaroid manipulations, Polaroid transfers, and Van Dyke Brown.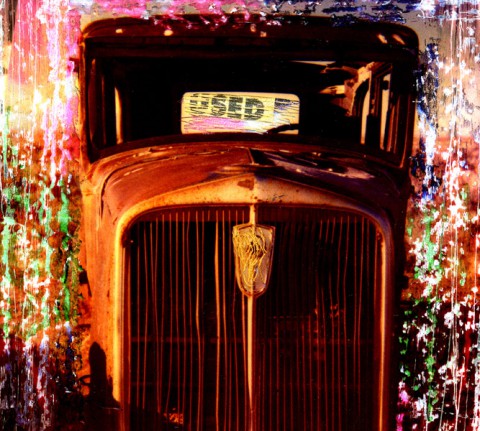 Having a background in darkroom developing and printing was a bridge to experimenting with other photography processes. Some of these don't require a darkroom, while others require many steps working with photographic chemistry. Working with alternative processes allows the artist to take photography to another level by experimenting with processes that were used at the advent of photography.
One such process is Van Dyke Brown, named because of the similarity of the final print color to that of a brown oil pigment used by Flemish painter Van Dyke. Considered a contact process, the final image will be the size of the negative used.
Many substrates can be used, but I chose rag watercolor paper. The paper is coated with the emulsion, the negative placed on top of the paper and put in a print frame and exposed to ultraviolet light. This process eliminates the need for a darkroom as does the Polaroid processes.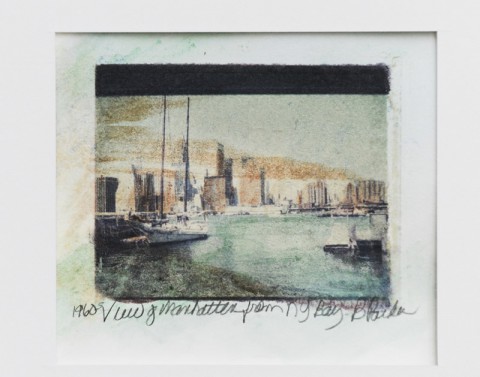 Polaroid film is not manufactured anymore, but I still use film that I have saved over the years. While this film is out of date, the actual excitement and hands on experience of exposing the film, separating the negative from the positive and transferring the image to watercolor paper has not diminished in the least.
The finished image is just as archival as new Polaroid film. My Polaroid processes are not limited to just one kind of Polaroid film. A vintage Polaroid camera is used for the mixed media images, whereas a slide printer is used for the Polaroid transfers. Many of the Polaroid transfers in this body of work are a result of slides given me by DAC member Gerald Gilman.
These slides were taken in the 1960s in New York City by Gerald and illustrate NYC icons such as the Brooklyn Bridge, New York Bay taken from Ellis Island, department store windows and intricate ironwork from Central Park.
The window show will feature Dorothy Thomason and Leslie Campbell. The combined show is entitled "Elements of Nature."
Leslie is a military spouse. Her show will focus on a woman's life adventure. Dorothy's is about celebrating the beauty and color of summer after enduring a long, hard winter.
Please join them at the DAC Gallery, 95 Franklin Street for the opening reception on Thursday, June 5th, 5:00pm-8:00pm. As always, the opening reception is a center point of Clarksville's First Thursday Art Walk. The DAC will be serving up stunning new works of art by Tess and other members along with delightful hors d'oeuvres
Edward's Steakhouse (107 Franklin Street)
Come enjoy the best steaks in Clarksville in a relaxed atmosphere with live piano on Friday and Saturday night. We also offer Clarksville's largest wine selection in town from around the world. 10% Military and APSU discount daily.
Artist Information
Larry Martin, a local artist of regional and international prominence, will be displaying his work during the June First Thursday Art Walk at Edward's Steakhouse, 107 Franklin Street. Known for his signature "Keyboard" jazz paintings, he will additionally be showing some abstracts and other subjects in the form of originals, giclees and prints.
And if you happen to hear a piano while in Edward's on this evening, it just might be Larry tinkling the ivories (he is also an accomplished musician)! Stop in and enjoy the art, the music and perhaps a steak or two.
Take advantage of their Thursday special. Half priced $7.00 appetizers and 2 for 1 draft drink specials.
The Framemaker (705 North 2nd Street, Ste B)
For over two decades, The Framemaker has offered a unique selection of frames and art services to the Middle Tennessee area.
Artist Information
Placement
Collaborative Artwork by Melanie Davis and Miranda Herrick
The Framemaker proudly presents "Placement" a collaborative exhibit by artists Melanie Davis and Miranda Herrick. This exhibit is part of Clarksville's First Thursday Art Walk on June 5th, 2014. An opening reception will be held from 5:00pm to 8:00pm. The artwork will remain on display at the Framemaker throughout the month of June during normal business hours (Monday through Friday 10:00am–5:00pm).
Melanie Davis is a designer, photographer and marketing consultant living and working in Nashville, Tennessee. Her affinity for large structures and night photography led her to start her current project, Horse Trails to Highways, a photographic exploration of the intersection between highways and byways around Nashville.
Miranda Herrick's current artwork involves detailed, pattern-based mosaics made from recycled aluminum cans. She works at Bennet Galleries in Nashville and lives in a quirky farmhouse in Clarksville, Tennessee.
The Framemaker is located at the corner of North Second Street and Georgia Avenue, across from the Clarksville Academy.
The Runner's Hub (127 Franklin Street)
The Runner's Hub hosts group runs around Historic Downtown Clarksville every Thursday evening at 5:30pm.
The Roxy Regional Theatre – Peg Harvill Gallery (100 Franklin Street)
For those who enjoy the visual arts, the Peg Harvill Gallery, located just beyond the lobby, hosts twelve shows annually featuring locally and nationally known artisans. Shows generally open the first Thursday of each month for our First Thursday Art Walk.
Artist Information
The Peg Harvill Gallery at the Roxy Regional Theatre is pleased to host local artist Brad Reagan for the June First Thursday Art Walk.
Please note, The Peg Harvill Gallery will only be open until 6:30pm, due to a performance of "Little Shop of Horrors."
Additional gallery hours are Monday through Friday, 9:00am–2:00pm.
For tickets to and information about our current production of "Little Shop of Horrors," please visit www.roxyregionaltheatre.org or call the box office at 931.645.7699.
The Gilroy Neighborhood Pub (140 University Avenue)
Continue your evening of Art Walk down Franklin Street and stop in The Gilroy for a refreshing beverage and a great meal.
After Walk Party at The Gilroy… 2-4-1 Drafts til midnight, 2-4-1 Cocktails til 10:00pm
Customs House Museum (200 S. 2nd Street)
The Customs House Museum and Cultural Center is Tennessee's second largest general interest museum. It features fine art, history, and children's exhibits.
The Customs House Museum will be closed for the First Thursday Art Walk, due to preparations for Flying High. Please visit www.customshousemuseum.org for additional hours and gallery information.
Rogate's (115 Franklin Street)
Rogate's Boutique will stay open late for the June First Thursday Art Walk. Please stop in and see how you can update your wardrobe this summer!
Sweet Memories Candy and Gift Shop (131 Franklin Street)
Stop in during the June First Thursday Art Walk for a sweet treat at our very own Sweet Memories Candy and Gift Shop located in Historic Downtown Clarksville.
Mildred & Mables (109 Franklin Street)
Mildred and Mable's will stay open late for the June First Thursday Art Walk. Stop in and see all the great offerings they have to offer.
The Coup (118 University Avenue)
The Coup proudly supports the First Thursday Art Walk, each month, with different exhibits featuring the work of many local artists.
Our Primitive Kountry (120A Strawberry Alley)
Our Primitive Kountry will be open late for the June First Thursday Art Walk. Take a stroll down Strawberry Alley and see all the offerings they have to spruce up your decor this spring!
Trespass Gallery (139A Franklin Street)
Trespass Gallery will be hosting the closing Reception of "Uncharted" during Art Walk from 5:00pm-8:00pm. Uncharted seeks to explore many facets of our daily cultural experiences through visual arts. This will be your last time to view the artwork before it is all shipped back to the artists.
Trespass Gallery will be holding a new opening reception for its next exhibit on June 14th from 5-9pm.
Couture Crush (101 Franklin Street)
Couture Crush will stay open late for the June First Thursday Art Walk. Also on display will be one of a kind pottery by Little Ox Pottery. Stop in and see all the great offerings to update your wardrobe this Spring!
F&M Bank (50 Franklin Street)
F&M Bank will host the Train Station Painters Watercolors during the June First Thursday Art Walk. Please visit F&M Bank in the Franklin Room from 5:00pm–7:00pm.
The Alley (101 Strawberry Alley)
Stop in grab a drink and sandwich and take in some great art, all at the same time, during the June First Thursday Art Walk.