Clarksville, TN – On June 25th, 2014 at 9:35pm, the Clarksville Police Department responded to a Robbery at the BP Gas Station at 1599 Fort Campbell Boulevard.
The victim, who is a cashier, stated that a black male (the suspect) entered the business carrying a black handgun. The suspect was wearing a black hat, black jacket, dark pants, dark sunglasses, and black and white bandanna on his face. The victim stated that the suspect pointed the gun at her and told her to give him the money.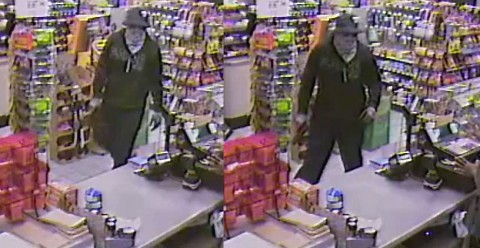 The victim stated that the suspect took the cash given to him from the register, and exited out of the North side door towards Ashbury Road and Shannon Street.
After an extensive search, Officers were unable to locate the suspect. Detective Kevin Shaw was able to provide photos of the suspect, which are included in this release.
If anyone can identify the suspect or has any information in regards to this incident, please call Detective Shaw at 931.648.0656 Ext. 5389 or, to remain anonymous, call the Crime Stoppers TIPS Hotline at 931.645.TIPS (8477).