Editor's note: With the passing of Chris Austin's father last week, he was unable to present a new "Instant Peay Play" for today. Therefore, we re-introduce you to a previous post about APSU Athletic Director Derek van der Merwe.

Clarksville, TN – Since being named as Austin Peay State University's athletics director on June 5th of last year, Derek van der Merwe has had to make a lot of adjustments with the move and new position, but that's the nature of the job.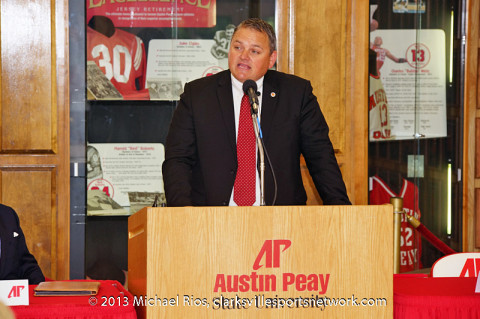 After 16 years of Division I athletics administration at Central Michigan University in positions from academic adviser to deputy athletics director and chief operating officer, van der Merwe (pronounced VAN-de-meer) made the move to APSU, becoming the school's 12
th
athletics director.
"It's been a great adjustment, not only for me, but for my family as well," he said. "We've made Clarksville our home and the community has welcomed us and given us a very warm reception, so it's been great.
"Being a part of an athletics department and university that is sort of being recognized for significant achievement in both advancement and growth like the new football stadium being built to the new scoreboards in the Dunn Center, putting up new advertising and corporate sponsorships in the facility. All of these things are starting to come together and gaining steam as we start to prepare for next year, so it's pretty exciting to be a part of all of those initiatives."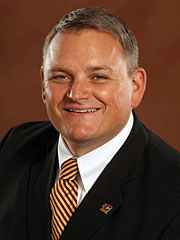 And that is the key point for any athletics director, you're always looking forward and you're always looking to improve on what you have as a department and what you have available for your athletes.
"One thing about athletic departments, at Austin Peay or around the country, is that there is always this need to grow," van der Merwe said. "The reason why they need to grow is not the desire for resources, it's beyond that. You operate very competitive environments and we're always looking for that edge to get our teams in the right position to compete.
"In order to sustain a competitive environment you have to find that next edge. You always have to be looking for it and what's it going to take to get the right type of kid into this program, how do our facilities need to look, what do our recruiting budgets need to be, what's our scholarships budgets – are we at the right place.
"Scholarship budgets grow. It costs more to attend school this year than it did last year. As those numbers grow you have to be able to meet those challenges. There is always another horizon and that's the nature of this profession and you have to have people understand that tension that exists as a result of that constant growth."
As athletics director, van der Merwe will also be facing a change at the top of the overall Austin Peay leadership tree, with the announcement from President Tim Hall that he will be leaving following the current spring semester.
"The fact is with new leadership comes new perspective and vision and you had to accept that, he said. "That's a reality I absolute think will happen with a new perspective that will come in and you have to embrace it. You can't sit there on the sidelines and go that's not what I thought. It doesn't work that way.
"I've been through a lot of organizational transitions and worked for four different presidents and every one of them was different, but the thing that was common was that they all had the best interests of the students at heart. You can't get to be a president unless that's your focus and our student-athletes are students too, so I've got to work with them to make sure their vision is realized."