Montgomery County, TN – A Montgomery County Sheriff's Deputy last night apprehended a fugitive wanted in Texas on capitol murder charges.
Deputy Chris Bedell, assigned to the 19th Judicial District Drug Task Force, was conducting a routine stop when he encountered Donald Tremaine Brown, 34, who claimed to be homeless.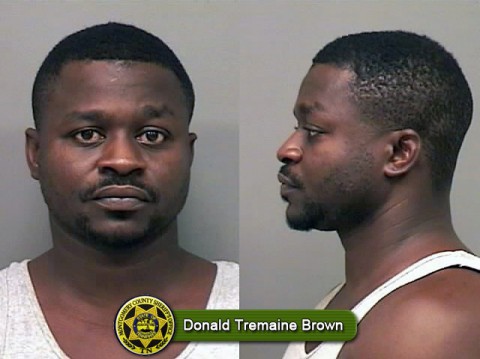 Bedell spotted the Brown's vehicle following another vehicle at an unsafe distance and attempted to stop him, but Brown attempted to escape into a dead end.
"I saw him leave his vehicle and try to run," Bedell said. "I tried taking him into custody, but he fought me, slamming me into a brick wall. I was finally able to subdue him and take him into custody."
Brown gave Bedell a false name and was booked into Montgomery County Jail as a "John Doe," but after fingerprint records were returned, Brown was identified.
He faces multiple charges in Montgomery County including aggravated assault, evading arrest and criminal impersonation, plus the charges he faces in Texas.
"I'm proud of Dep. Bedell for taking this dangerous criminal off the streets," said Sheriff John Fuson. "Through his training and ability, he has made Montgomery County safer, today."
According to warrants from Dallas County, Texas, on September 25th, 2012, Brown is accused of asking the victim for money while stabbing him several times. The victim attempted to flee, but collapsed and later died from his injuries at a local hospital.