APSU Sports Information Office

Akron, OH – Errors dominated the conversation following the Austin Peay State University volleyball team's four-set loss (13-25, 11-25, 25-15, 17-25) to Drake in the opening match of the Akron Invitational, Friday morning, at Rhodes Arena.
Austin Peay (1-4) reverted back to its error-prone ways from the opening weekend, committing 24 attack errors, 13 service errors and six ball handling errors. Those 43 points surrendered by Austin Peay were nearly half of the 90 points Drake scored in the four-set match.
"I am disappointed in our performance this morning," said Lady Govs head coach Taylor Mott. "I believed we had made a step forward in solving our problem with errors after the Evansville match. This morning was a step backward in that regard. It was a great opportunity to keep taking steps forward. Now we have to regroup and prepare for this afternoon's match."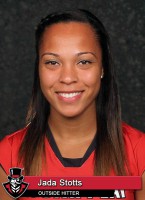 The first two sets saw a combination of nearly flawless hitting by Drake and a sub-par performance by Austin Peay's offense lead to blowouts.
In the opening set, the Bulldogs needed just seven kills while committing no errors to post a 25-13 win. The Lady Govs scored 10 kills in that set, but committed 10 attack errors while chipping in three errors both in ball handling and service.
The second set was more of the same, though Drake's offense did record 13 kills against Austin Peay's six kills. However, the Bulldogs committed just one attack error against the Lady Govs' six mishits en route to the 25-11 Drake win.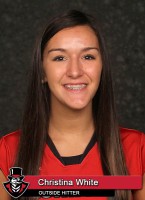 Austin Peay's offense was far more efficient in the third and fourth sets. A 16-kill effort by the Lady Govs, while committing just three attack errors, garnered them an impressive 25-15 wire-to-wire win. Drake recorded six kills in the set but negated that effort with six attack errors.
The fourth set saw both offenses hammer away. Drake won the set wire-to-wire, jumping out to a 5-2 lead and never looking back. However, Austin Peay scored 13 kills while committing only five errors. Drake was the more efficient offense squad in the decisive frame, finishing with 14 kills and two attack errors to secure a 25-17 win.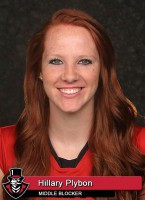 Senior outside hitter Jada Stotts led Austin Peay with 12 kills while notching a .321 attack percentage. Freshman outside hitter Christina White notched nine kills and a team-best .350 attack percentage off the bench. Senior middle blockers Hillary Plybon and Liz Landon each chipped in eight kills.
Austin Peay finished with 45 kills but was held to a .181 attack percentage. The Lady Govs recorded four blocks in the match, led by junior setter Aubrey Marsellis' three-block performance.
Kyla Inderskie led Drake with 15 kills while posting a .433 attack percentage. The Bulldogs needed just 40 kills to win the match while recording a .313 attack percentage.
Austin Peay returns to action with a 2:00pm contest against Binghamton.
Box Score
Drake 3 vs Austin Peay 1
| Set Scores | | 1 | 2 | 3 | 4 | Team Records |
| --- | --- | --- | --- | --- | --- | --- |
| Austin Peay | (1) | 13 | 11 | 25 | 17 | 1-4 |
| Drake | (3) | 25 | 25 | 15 | 25 | 4-1 |
Drake (4-1)
| ## | Player | SP | K | E | TA | PCT | A | E | SA | SE | RE | DIG | BS | BA | Points |
| --- | --- | --- | --- | --- | --- | --- | --- | --- | --- | --- | --- | --- | --- | --- | --- |
| 8 | Woods, Nicole | 4 | 6 | 2 | 21 | .190 | 1 | 0 | 3 | 2 | 1 | 1 | 0 | 1 | 9.5 |
| 10 | Quaites, Capris | 4 | 5 | 0 | 9 | .556 | 1 | 0 | 0 | 0 | 0 | 0 | 0 | 1 | 5.5 |
| 11 | Dulek, Katie | 4 | 6 | 0 | 7 | .857 | 0 | 0 | 0 | 1 | 0 | 1 | 1 | 3 | 8.5 |
| 13 | Davidson, Chandelle | 4 | 1 | 0 | 1 | 1.000 | 20 | 0 | 0 | 0 | 0 | 6 | 0 | 0 | 1.0 |
| 15 | Inderskie, Kyla | 4 | 15 | 2 | 30 | .433 | 1 | 0 | 1 | 0 | 0 | 7 | 0 | 1 | 16.5 |
| 18 | Schoene, Makena | 4 | 5 | 3 | 16 | .125 | 0 | 0 | 0 | 2 | 0 | 1 | 0 | 2 | 6.0 |
| 2 | Meyer, Halli | 2 | 0 | 0 | 0 | .000 | 0 | 0 | 0 | 0 | 0 | 1 | 0 | 0 | 0.0 |
| 3 | Zant, Taylor | 1 | 1 | 0 | 3 | .333 | 0 | 0 | 0 | 0 | 0 | 0 | 0 | 0 | 1.0 |
| 5 | Thommi, Michelle | 4 | 0 | 0 | 0 | .000 | 4 | 0 | 0 | 1 | 1 | 16 | 0 | 0 | 0.0 |
| 17 | Brown, Rebecca | 4 | 1 | 0 | 2 | .500 | 8 | 0 | 1 | 0 | 0 | 7 | 0 | 0 | 2.0 |
| 22 | Daum, Shelby | 4 | 0 | 2 | 10 | -.200 | 0 | 0 | 0 | 2 | 0 | 1 | 0 | 2 | 1.0 |
| TM | TEAM | 2 | 0 | 0 | 0 | .000 | 0 | 0 | 0 | 0 | 2 | 0 | 0 | 0 | 0.0 |
| | Totals | 41 | 40 | 9 | 99 | .313 | 35 | 0 | 5 | 8 | 4 | 41 | 1 | 10 | 51.0 |
Team Attack By Set
Set
K
E
TA
Pct
1
7
0
18
.389
2
13
1
25
.480
3
6
6
25
.000
4
14
2
31
.387
Total Team Blocks: 6.0
LEADERS:
Kills-Aces-Blocks: Inderskie, Kyla (15-1-1); Woods, Nicole (6-3-1); Dulek, Katie (6-0-4); Quaites, Capris (5-0-1); Schoene, Makena (5-0-2); Davidson, Chandelle (1-0-0); Zant, Taylor (1-0-0); Brown, Rebecca (1-1-0)
Assists: Davidson, Chandelle (20); Brown, Rebecca (8); Thommi, Michelle (4); Woods, Nicole (1); Quaites, Capris (1); Inderskie, Kyla (1)
Digs: Thommi, Michelle (16); Inderskie, Kyla (7); Brown, Rebecca (7); Davidson, Chandelle (6); Woods, Nicole (1); Dulek, Katie (1); Schoene, Makena (1); Meyer, Halli (1); Daum, Shelby (1)
Austin Peay (1-4)
| ## | Player | SP | K | E | TA | PCT | A | E | SA | SE | RE | DIG | BS | BA | Points |
| --- | --- | --- | --- | --- | --- | --- | --- | --- | --- | --- | --- | --- | --- | --- | --- |
| 4 | EBRIGHT, Sammie | 4 | 4 | 4 | 15 | .000 | 0 | 0 | 0 | 2 | 0 | 6 | 0 | 0 | 4.0 |
| 7 | MARSELLIS, Aubrey | 4 | 2 | 2 | 8 | .000 | 22 | 0 | 0 | 0 | 0 | 2 | 1 | 2 | 4.0 |
| 8 | LANDON, Liz | 4 | 8 | 5 | 23 | .130 | 0 | 0 | 1 | 0 | 0 | 2 | 0 | 2 | 10.0 |
| 10 | STROTHER, Samantha | 2 | 2 | 4 | 8 | -.250 | 0 | 0 | 0 | 2 | 0 | 2 | 0 | 0 | 2.0 |
| 14 | STOTTS, Jada | 4 | 12 | 3 | 28 | .321 | 1 | 0 | 1 | 1 | 1 | 16 | 0 | 1 | 13.5 |
| 15 | PLYBON, Hillary | 4 | 8 | 4 | 14 | .286 | 1 | 0 | 2 | 3 | 0 | 1 | 0 | 1 | 10.5 |
| 1 | FIELDS, Cami | 4 | 0 | 0 | 0 | .000 | 18 | 0 | 0 | 1 | 0 | 4 | 0 | 0 | 0.0 |
| 3 | ADAMS, April | 2 | 0 | 0 | 0 | .000 | 1 | 0 | 0 | 0 | 0 | 5 | 0 | 0 | 0.0 |
| 5 | BALES, Lizzy | 2 | 0 | 0 | 0 | .000 | 0 | 0 | 0 | 1 | 3 | 5 | 0 | 0 | 0.0 |
| 11 | WHITE, Christina | 4 | 9 | 2 | 20 | .350 | 1 | 0 | 0 | 3 | 0 | 3 | 0 | 0 | 9.0 |
| TM | TEAM | 1 | 0 | 0 | 0 | .000 | 0 | 0 | 0 | 0 | 1 | 0 | 0 | 0 | 0.0 |
| | Totals | 35 | 45 | 24 | 116 | .181 | 44 | 0 | 4 | 13 | 5 | 46 | 1 | 6 | 53.0 |
Team Atack By Set
Set
K
E
TA
Pct
1
10
10
27
.000
2
6
6
29
.000
3
16
3
23
.565
4
13
5
37
.216
Total Team Blocks: 4.0
LEADERS:

Kills-Aces-Blocks: STOTTS, Jada (12-1-1); WHITE, Christina (9-0-0); LANDON, Liz (8-1-2); PLYBON, Hillary (8-2-1); EBRIGHT, Sammie (4-0-0); MARSELLIS, Aubrey (2-0-3); STROTHER, Samantha (2-0-0)
Assists: MARSELLIS, Aubrey (22); FIELDS, Cami (18); STOTTS, Jada (1); PLYBON, Hillary (1); ADAMS, April (1); WHITE, Christina (1)
Digs: STOTTS, Jada (16); EBRIGHT, Sammie (6); ADAMS, April (5); BALES, Lizzy (5); FIELDS, Cami (4); WHITE, Christina (3); MARSELLIS, Aubrey (2); LANDON, Liz (2); STROTHER, Samantha (2); PLYBON, Hillary (1)