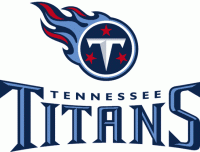 Nashville, TN – The Dallas Cowboys (1-1) rolled over the Tennessee Titans (1-1) Sunday, September 14th at LP Field 26-10. The Cowboys gashed the Titans defense for 220 rushing yards.
"We missed gaps, we missed hits, we missed contain. You know, we missed tackles," said Titans head coach Ken Whisenhunt. "They ran the football well. Give them credit. They did to us what we did to Kansas City last week."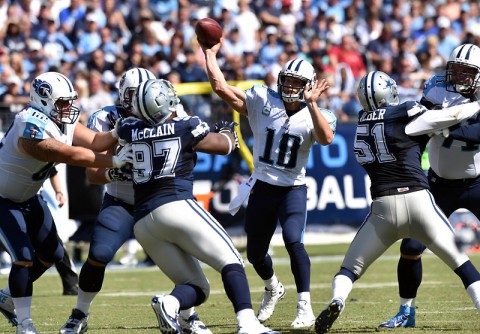 Tennessee's offense sputtered during the first half of play. The first two drives were three and out. The third drive ended on the third play when a Jake Locker pass over the middle to tight end Delanie Walker was intercepted by Dallas safety Barry Church at the Titans 44 yard line.
When asked if the Cowboys did anything to cause the early struggles, Whisenhunt responded "They didn't do anything. They played their scheme. We had opportunities. Yeah, Jake (Locker) didn't play his best in the first half, but we had opportunities to make a couple of catches that gets us going and we didn't do it. And it's obvious to me now that we are an offense that needs to make a play early and to get something going. Once we do that, we respond."
The Titans went in at half time down 16-0.
Tennessee opened the 2nd half driving the ball from their own 10 yard line down to the Dallas 29. On 3rd and 11, Dallas linebacker Rolando McClain sacked Jake Locker for no loss. Kicker Ryan Succop came on and hit a 47 yard field goal to finally get the Titans on the board.
Safety Bernard Pollard stepped up for the Titans on the Cowboys next possession. On 1st and 10, Pollard tackled Dallas running back DeMarco Murray for just a 3 yard game. Tennessee stuff Murray on the next play for no gain. On 3rd and 7, Pollard sacked quarterback Tony Romo for a 3 yard loss.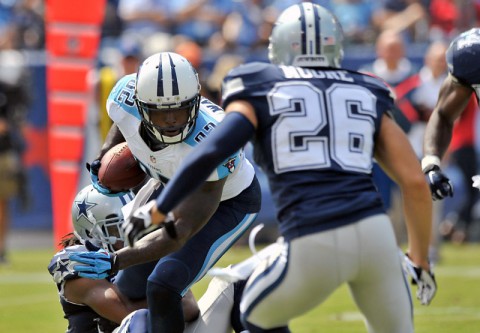 On Tennessee's next drive, Locker connected deep left to Walker for a 61 yard touchdown making it 16-10 Dallas. It was as close as the Titans would get.
On settling for a field goal on the opening drive of the second half, Locker stated "No, it's tough. I thought it was a good way to come out. We were backed up, moved the ball. Kind of got some life back into the stadium, scored some points and then we were able to get defensive stops and we were able to go back down and score a touchdown again. We felt pretty good about things at that point but we just dug ourselves too big a hole."
The Cowboys scored another touchdown in the 3rd quarter when Romo hit wide receiver Dez Bryant on a 3 yard catch. Later, in the 4th quarter, kicker Dan Bailey hit a 48 yard field goal to extend Dallas' lead to 26-10.
Jake Locker ended the game 18 of 34 for 234 yards, a touchdown and two interceptions. Running back Shonn Greene had 40 yards on 5 attempts.
Delanie Walker had a big game for Tennessee. He had tied his career high receptions with 10. He also had a career high 142 yards and a touchdown.
"Delanie (Walker) had a good day. You never know who is going to have it, but he won. We just missed on some other opportunities too." stated Whisenhunt.
For Dallas, Tony Romo had 176 yards and a touchdown on 19 completions on 29 attempts. Running back DeMarco Murray did most of the damage to Tennessee with 167 yards rushing and a touchdown on 29 attempts. He averages 5.8 yards a carry.
Dez Bryant had 10 receptions for 103 yards and a touchdown. Tight end Jason Witten had 32 yards on 4 catches.
The Cowboy's time of possession was 41:11 while the Titans was 18:49.
"I thought it was a really physical football game obviously.  I thought we did a good job with the offensive line, controlling the line of scrimmage and the running game and really giving DeMarco [Murray] some opportunities.  DeMarco ran really well, he ran hard, he ran downhill and when you do that, drive the football again and again and again, and control the football and control the game it gives you a great chance to win," stated Cowboys head coach Jason Garrett. "I thought Tony [Romo] did a nice job of throwing the ball when he had an opportunity."
"Obviously, our defense did a really good job making stops. Third downs were big for us. I think they only converted two or so throughout the ball game. I thought that was really, really good," said Garrett. "It was a big point of significance for us coming into this game, them not driving the ball. Our guys did a good job of getting off the field and making big plays throughout the game."
"Well, you know, give credit to Dallas. They played a good football game today," stated Ken Whisenhunt. "(I am) very disappointed that we didn't play better today, especially at home."
"It really hurts and we got a lot of things that we can correct and work on from this game. So, too many mistakes in the first half. I think one of the things that really hurt was when we forced the turnover and we did nothing with it," said Whisenhunt. "Of course, getting 0-for-third downs in the first half that's not something that is characteristic of us. Once again, give them credit and we have to correct these things."
The Tennessee Titans begin a two game road trip when they head to Cincinnati to take on the Bengals at Paul Brown Stadium. Kickoff is at 12:00pm CDT.
Box Score
Dallas Cowboys 26, Tennessee Titans 10
| | | | | | |
| --- | --- | --- | --- | --- | --- |
| | 1 | 2 | 3 | 4 | Final |
| Dallas Cowboys | 3 | 13 | 7 | 3 | 26 |
| Tennessee Titans | 0 | 0 | 10 | 0 | 10 |
Dallas Cowboys

Passing
CP/AT
YDS
TD
INT
T. Romo
19/29
176
1
0
Rushing
ATT
YDS
TD
LG
D. Murray
29
167
1
22
L. Dunbar
11
27
0
7
J. Randle
3
26
0
11
Receiving
REC
YDS
TD
LG
D. Bryant
10
103
1
22
J. Witten
4
32
0
15
T. Williams
2
20
0
12
C. Beasley
1
10
0
10
D. Murray
1
6
0
6
G. Escobar
1
5
0
5
Fumbles
FUM
LOST
REC
YDS
D. Murray
1
1
0
0
S. Moore
0
0
0
0
Kicking
FG
LG
XP
PTS
D. Bailey
4/4
51
2/2
14
Punting
NO
AVG
I20
LG
C. Jones
4
45.0
1
62
Punt Returns
NO
AVG
TD
LG
D. Harris
1
15
0
15
Tennessee Titans

Passing
CP/AT
YDS
TD
INT
J. Locker
18/34
234
1
2
Rushing
ATT
YDS
TD
LG
S. Greene
5
40
0
13
D. McCluster
4
30
0
16
J. Locker
2
9
0
8
B. Sankey
2
3
0
4
Receiving
REC
YDS
TD
LG
D. Walker
10
142
1
61T
K. Wright
3
31
0
12
J. Hunter
2
26
0
23
D. Hagan
1
25
0
25
D. McCluster
1
9
0
9
N. Washington
1
1
0
1
Fumbles
FUM
LOST
REC
YDS
D. Walker
1
0
0
0
J. Hunter
0
0
1
0
R. Pitoitua
0
0
1
0
Kicking
FG
LG
XP
PTS
R. Succop
1/1
47
1/1
4
Punting
NO
AVG
I20
LG
B. Kern
5
38.0
1
54
Kickoff Returns
NO
AVG
TD
LG
L. Washington
4
11
0
18
J. Battle
1
21
0
21