Austin Peay Sports Information

Carbondale, IL – Austin Peay State University women's golf team will participate in its second fall tourney as it travels slightly north for the Saluki Shoot-out, Sunday, at the Hickory Ridge Golf Course.
The one-day 36-hole tournament will be played on a 6,075-yard layout that will feature six teams, including Ohio Valley Conference foes Eastern Illinois and SIU Edwardsville.
In addition to host Southern Illinois two other Missouri Valley teams also will be performing, Indiana State and Evansville.
This is APSU's first trip to Carbondale since appearing in the Spring 2012 Saluki Invitational. Head coach Sara Robson, a Metropolis, Illinois, native, is extremely familiar with the course, having played it multiple times herself over the years as well as coaching her teams on the layout over the years.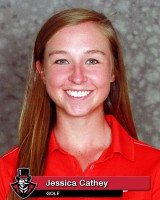 "Having grown up playing there and taking several teams to the Spring Saluki Tournament I know the course well," Robson said. "It will be imperative we get off the tee well and stay in the fairway. There are several tricky holes on the course that will give us the daunting task of placing the ball perfectly.
"The course will play differently this weekend than it does in the Spring. Typically we are used to seeing it in cold weather and wet conditions. The course should be more enjoyable with the temperatures that are predicted for this weekend and, hopefully, the rain will hold off, giving us dry conditions."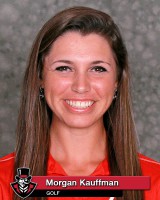 The Lady Govs finished strong over the final two days of Murray State's tournament but could not overcome a first-day slow start, leaving them in eighth place. Individually, junior Jessica Cathey (225=76-74-75) tied for sixth, despite having just one birdie the entire tournament.
"I expect Jessica and (senior) Meghan (Mueller) to once again lead our team," Robson said. "Jessica is coming off a sixth-place place finish is looking to continue her solid play. Meghan (240=86-76-78) had a tough opening round to her senior year, but she is more focused than ever and has played great in qualifying."
In addition to the upper class duo, sophomores Morgan Kauffman (234=84-71-79) and Kelsey Schutt will play as will freshman AnnaMichelle Moore (238=81-79-78). Sophomore Morgan Gardner will play as an individual.
"Kauffman is playing much smarter these days and that has allowed her scores to start getting lower," Robson said. "She has a great future ahead of her if she will continue to be smart and keep her swing tempo under control.
"AnnaMichelle has had a strong start to her college career. I am looking for her to be more relaxed this week, hit a few more greens, and eliminate the big numbers. Kelsey is our fifth player this week, having won a playoff in qualifying. She is eager to contribute.  It was great to see her competitiveness come out in qualifying and I enjoyed watching her play some of her best golf to date."