Austin Peay Sports Information

Evansville, IN – The Austin Peay State University women's tennis team completed their trip to the Hoosier state, Saturday, wrapping up play in the UE/USI Fall Invite at Wesselman Park.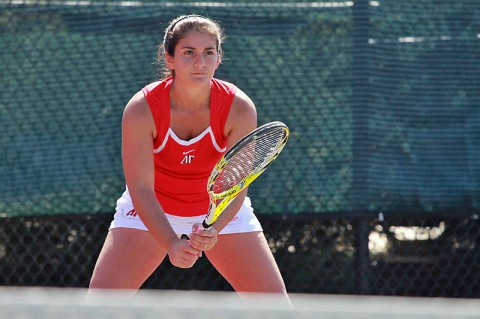 The final day of action saw the Lady Govs face co-host Evansville and Charleston in singles play along with a pair of doubles matches against the other co-host, Southern Indiana.
In doubles action against Southern Indiana, the Lady Govs were able to claim wins in both matches.
The senior duo of Ornella Di Salvo and Vanessa Tavares defeated the Screaming Eagles Brenna Wu and Elizabeth Wilm, 8-5, while the pairing of freshman Brittney Covington and senior Jovana Karac earned an 8-4 victory against Kymberly Brannon and Kelsey Shipman.
In singles play against Evansville, the Lady Govs claimed their only victory when Di Salvo rallied from a first set deficit to defeat Purple Aces Natasha James in three sets (1-6, 7-5, 12-10) at the No. 1 position.  In other matches, Tatlock dropped a 6-2, 7-5 decision to Andjela Brugljan while Covington was able to force a second set tie-break before falling to Marina Moreno 6-1, 7-6 (7-2).
Against Charleston, the Lady Govs were able to add three more wins to their weekend total.  At the No. 1 position, Di Salvo finished an undefeated day with a 6-2, 6-1 victory over Toni Katipa, while Tavares claimed a 6-2, 6-2 victory over the Golden Eagles Kelsey Hensley.  Covington closed out the winning ways with a 6-2, 7-5 decision against Marieve Edwards.
"Ornella definitely had a very good day and we were pretty good in doubles," said head coach Ross Brown.  "Today was a mixed bag.  We found some stuff that we have to work on before Regionals."
Before the Lady Govs take part in the ITA Ohio Valley regional tournament, they will welcome North Alabama to Clarksville Tennessee for a Friday match at the Austin Peay Tennis Courts.