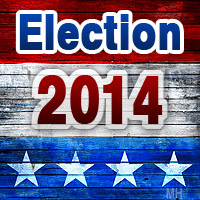 Clarksville, TN – On Thursday, October 16th, 2014, the Clarksville Association of Realtors will be hosting a Political Candidate Debate featuring candidates running in the November 2014 City and State General Election.
The Political Candidate Debate will take place at the Montgomery County Civic Hall located at 350 Pageant Lane, Suite 201, beginning at 10:45am.
The event is open and the public is invited to attend.
The candidates will be answering questions and addressing issues that are relevant locally. "We are looking forward to hosting another informative event for the citizens of Clarksville," said the Governmental Affairs Committee Chairman, Charles Pecka. CDE Lightband will be partnering to televise the event live on their community channel.
For more information on the schedule, list of participants, and additional information please visit www.clarksvilleassociationofrealtors.com/debate/ or call the Clarksville Association of Realtors at 931.552.3567.
About the Clarksville Association of Realtors
The Clarksville Association of Realtors has 711 active members and 64 affiliate partners that work together to improve the public awareness of the value of Realtors to the community and to the benefits of their services.
The Clarksville Association of Realtors also  serves to promote the success and future developments of its members in association with the Tennessee and National Associations of Realtors.