Family-friendly concert narrated by NPR host and author Anna Celenza

Clarksville, TN – The Gateway Chamber Orchestra presents "Papa Haydn's Farewell Symphony," Sunday, November 16th, at 3:00pm in the George & Sharon Mabry Concert Hall, Clarksville, TN.
Sponsored by Planters Bank, this Family Concert is based on the humorous book written by Anna Celenza, which tells the story of musicians who long to go home.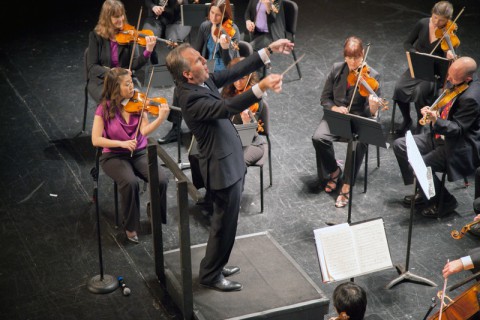 Also well known for her work on National Public Radio, the author will narrate this story.
Pre-concert children's activities will include an instrumental petting zoo and craft projects, which will begin at 2:00pm in the Music Mass Communication Building on the campus of Austin Peay State University.
Haydn's Symphony No. 45, also known as "Farewell" Symphony, was written in 1722 for Prince Nikolaus Esterházy at the end of the long summer season. During the final adagio, each musician gives a hint that it is time to go home.
Music Director Gregory Wolynec says, "We are thrilled to work with Anna Celenza; incorporating her talents, the GCO offers a fun introduction to great music for students and their families. Our inviting atmosphere combined with family-friendly pricing brings entertaining cultural arts to our community."
Tickets can be purchased by phone at 931.444.6240 or online at www.gatewaychamberorchestra.com/events
Adult Tickets – $10.00 / Student or Active Military Tickets – $6.00
Family Package – $25.00 / Active Military Family – $18.00
*Family includes 2 adults + unlimited children.
Family and Military Family tickets must be purchased via the box office: call 931.444.6240.
This concert is made possible in part by the generous support of the Austin Peay State University Center of Excellence for the Creative Arts.
*The concert will also be presented free of charge to students in Mabry Hall, Clarksville, TN, on Monday, November 17th and to Nashville area students at the  Masonic Grand Lodge, Tuesday, November 18th, at 9:30am. Author Anna Celenza will be narrating both educational concerts.
About The Gateway Chamber Orchestra
The Gateway Chamber Orchestra, conducted by Gregory Wolynec, was formed in 2008 and is recognized as one of the leading new American ensembles. Comprised of professional musicians from Middle Tennessee and beyond, the GCO specializes in presenting traditional masterworks, overlooked treasures, and contemporary American compositions.
The GCO's recordings have received critical acclaim in publications such as the American Record Guide and Fanfare Magazine. Engaging 5,000 Middle Tennessee students annually with classical music through free performances, innovative educational outreach, and interactive Children's Concerts, the GCO is committed to building new audiences for tomorrow.
Visit www.gatewaychamberorchestra.com to learn more.