Nashville, TN – For the fourth consecutive year, Macy's and the American Heart Association are offering sixteen $2,500 tuition-focused scholarships through the Go Red™ Multicultural Scholarship Fund, for minority women pursuing undergraduate or graduate degrees in healthcare fields.
The deadline to apply for 2015 scholarships is December 31st, 2014.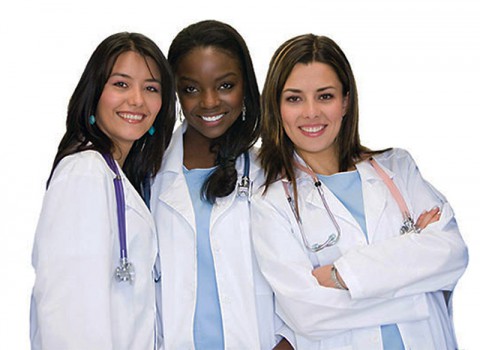 "The recruitment of diverse women into the healthcare field is an important endeavor that Macy's is proud to support through the Go Red Multicultural Scholarship Fund," said William Hawthorne, Macy's, Inc. senior vice president of Diversity Strategies. "Each year, these scholarships help to support multicultural women pursuing their education in the healthcare industry, which benefit not only the students, but also the communities they will serve."
"Having more diverse healthcare professionals would give patients an opportunity to see healthcare staff who look similar to themselves, which will make them feel more comfortable and will lead to better health results," said Chantel Underwood, one of 16 recipients of the 2014 Go Red Multicultural Scholarship Fund and a senior at the Nazareth College of Rochester, New York.
Scholarship recipient Wen Mai Wong learned first-hand the importance of connecting culturally with patients as a young volunteer at her local hospital.
"I quickly realized how I could impact someone's life through simple things such as refilling prescriptions, transporting patients, or through a simple conversation," said Wong, a sophomore at St. Mary's University in San Antonio, Texas, who aspires to be a physician investigator.
Studies show that patients who receive culturally-sensitive care from doctors of the same background are more satisfied and engaged in their treatment. Yet, while African-Americans, Hispanics and Native Americans comprise more than 26 percent of the U.S. population, they represent just 6 percent of practicing physicians, according to the Association of American Medical Colleges (AAMC).
Additionally, of the 17,364 medical school graduates in 2011, 659 were Hispanic women (3.8 percent); 719 were black women (4.1 percent); and 1,918 where Asian women (11 percent).
The disparity also exists among U.S. medical school faculty: 60 percent are Caucasian, 13 percent are Asian; 4 percent are Hispanic; and 2.9 percent are African-American. The gap is even greater among higher-ranking faculty, according to the AAMC. Furthermore, only 35 percent of women and 3 percent of African-Americans are participants in cardiovascular research trials. Yet, 43 percent of coronary artery disease patients are women and 11 percent are African-Americans.
Breaking cultural and language barriers are crucial because African-Americans, Hispanics and other ethnic groups are at higher risk for heart disease and experience worse health outcomes than Caucasians.
Earlier this year, American Heart Association chief science officer Rose Marie Robertson told a Food and Drug Administration panel that studies of drugs and medical devices don't always report what effects these treatments may have on women and minorities.
"Sex, race and ethnicity and age play an important role in how heart disease, stroke and other forms of cardiovascular disease affect us," Robertson said. "These same factors can cause prescription drugs and medical devices to work differently in women and men, minorities and older people. Yet despite this understanding, women, minorities and the elderly continue to be underrepresented in medical research studies."
The Go Red Multicultural Scholarship Fund is made possible by the Macy's Multicultural Fund, which was created in 2009 to focus on increasing diversity in the medical field. Macy's is a founding national sponsor of the American Heart Association's Go Red For Women® and Go Red Por Tu Corazón raising more than $48 million since 2004.
The Go Red Multicultural Scholarship Fund awards scholarships each year in March.
Read about our 2014 recipients to see how the scholarship is making a difference in education and career plans.
Here's how you can apply: Apply online
Applicants must
Be a female of Hispanic,  African-American, Asian/Pacific Islander or other minority origin
Be a citizen/permanent resident of the continental United States, including Hawaii and Alaska
Be currently enrolled in an accredited college, university or allied health institution in the U.S. and plan to be enrolled in the Fall of 2015
Have a minimum 3.0 cumulative GPA
Complete an essay and submit two letters of recommendation with the application