Clarksville, TN – Recruiting is the life's blood of any college sports program and the Austin Peay State University football program is no different.
That is why the next two months will be key for the continued building of the program, as coach Kirby Cannon and his staff will be putting plenty of miles on their travel reports as well as long hours going over tapes and evaluations of players that they hope to bring into the fold.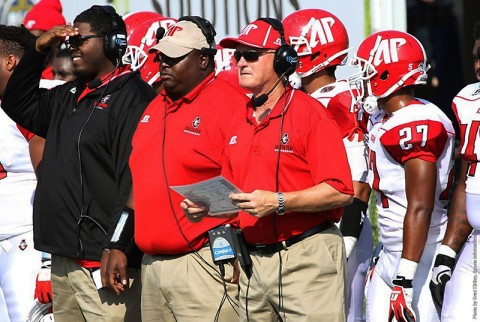 This will be the second full cycle for coach Cannon, who was hired in March 2013, and has gone through 0-12 and 1-11 seasons to begin his tenure with the Governors and along with having to replace 18 departing seniors from this past year's team, must continue to add to the teams depth and talent pool.
But it is not just overall depth and talent than needs to be addressed, but several key areas that have to get better – and quickly.
First is the offensive line.
Of the 18 seniors off of this year's team six were offensive linemen that gave up a sack once on every 11.7 pass attempts, while also seeing a running attack that only average 3.1 yards per attempt.
Those numbers led to the Governors having almost half of their offensive drives this season (76 of 161/47.2%) being three plays or less, while an even more staggering 71.4% (115-161) being five plays or less.
Conversely, only 7.4% (12-161) of the team's drives were 10 plays or more this past season.
But it wasn't all bad, with the team seeing an improvement if they made it into the red zone – going from 54% success in red-zone scores in 2013 to 63.1% in 2014 and in red-zone touchdowns going from 25% to 42.1%.
Secondly, the defensive line must improve, or at least the pass rush.
There were 338 pass attempts against Austin Peay this past season and the Govs only managed seven sacks – one sack for every 48.3 attempts.
In fact, if you add the eight sacks recorded by Austin Peay in the 2013 season, the Govs would still only tie for seventh overall in the conference for 2014.
Add to that, the fact that the Govs ranked last in the Ohio Valley Conference in rush defense, giving up 243.1 yards per game; last in the conference.
And finally, even though the lack of a pass rush contributed, the Govs defensive secondary must be upgraded.
This past season, opposing quarterbacks completed over 70% of their pass attempts versus the Governors, while giving up over 252 yards per game and a conference worsts in 30 passing touchdowns and pass defense efficiency of 171.6.
Those three areas listed above aren't all the units, or positions, that need to be addressed; but they are key to seeing a much more improved product in the 2015 season.
So for coach Cannon, his staff and for fans of the Govs, the December 17th NCAA National Letter of Intent signing date for junior college players and the February 4th regular signing period will be key if the football program is to continue to improve.