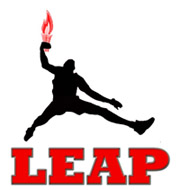 Clarksville, TN – Youth enrolled in the LEAP Leadership and Life Skills Program had an opportunity to participate in a 10 week etiquette course by Lori Austin at the Leap Plaza. Participants learned valuable lessons in professional attitudes, handshakes, posture, hygiene, dressing for success, proper communication, manners, and habits.
Through the interactive lessons that engaged participants, several students reported an increase in self-esteem. "I feel better prepared to speak with adults and confident that I would be able to do well on an interview." Commented Jalen Jackson
Another student who wanted to remain anonymous shared that "I've heard some of the stuff covered before by my mom and some of my teachers, but for some reason it made much more sense the way Mrs Lori taught us."
Upon completing the course requirements students were treated to a formal dining graduation ceremony with a 5 course meal catered and served by the Chopin Block. During the meal, they were able to apply what they learning from properly greeting adults with the males seating the females, and dining properly.
Due to the successful implement of the etiquette, Leap will be implementing it at the Kleeman Community Center, Burt-Cobb Community Center, and Crow Community Center in January of 2015.
For more information call 931.378.0500 or visit www.leaporg.net/programs