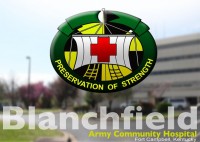 Fort Campbell, KY – The Army recently changed the immunization documentation process, and Fort Campbell found a unique way to meet the requirements efficiently and quickly last week.
In collaboration with Blanchfield Army Community Hospital's Department of Preventive Medicine, the 101st Airborne Division and Fort Campbell tenant units participated in a post-wide pandemic exercise.
Along with other supporting units, Preventive Medicine's Public Health Nursing staff organized the event, helping provide immunizations to Soldiers who needed vaccinations to meet the Army's new Medical Protection System (MEDPROS) documentation requirements.
Vaccinations for the about 30,000 troops at Fort Campbell are maintained routinely at the unit level, but the new system helped identify about a three-percent shortfall.
To meet the mission, Public Health Nurses established a plan to assist units with updating Measles, Mumps and Rubella, the Varicella and the Polio vaccines in MEDPROS, and launched a two-day immunization exercise to work collaboratively with units across the Division and Fort Campbell for a post-wide Pandemic Exercise.
"Most people are up-to-date with all MMR, Varicella and Polio vaccines but when they joined the military, only so much of that information was put into the MEDPROS system," explained Capt. Kristie Smith, BACH Army Public Health Nurse student helping lead the exercise. "Now with this requirement, we needed official documentation that all Soldiers received the vaccines, in accordance with CDC (Centers for Disease Control and Prevention) guidelines."
The exercise served a dual mission, according to BACH's chief of Preventive Medicine Maj. Samuel Peik. "It was to increase the readiness of the Soldiers at Fort Campbell and also to test our Pandemic capabilities. If there is a new vaccine or issue we need to address in the future, we know we can mobilize the resources across the installation."
The resources came together smoothly and Soldiers were offered the vaccines at the Soldier Readiness Processing Site over a two-day mass immunization effort March 25th and 26th, Peik said.
The Executive Officer for B Co, 2- 506, 3rd Brigade Combat Team, 1st Lt. Logan Springer, said his medical readiness was red in MEDPROS to receive the immunizations offered at the event.
These immunizations are tracked at battalion level. One of his battalion medics told him when and where to go get the vaccines. He did what Soldiers do best, he showed up and was one of the Soldiers receiving the vaccines during the exercise.
The process was efficient, Springer said. "They helped me out, pointed me in the right direction and I was in and out within two to three minutes."
His remarks were echoed by Sgt. Kyle Allison, assigned to the Intelligent & Sustainment Co., 101st Headquarter and Headquarter Battalion, 101st Airborne Division.  "It took about a minute for me to get my immunizations today. It was very efficient."
Although efficiency was essential for the exercise, the goal was to provide Soldiers with protection and readiness.
"The whole reason we require immunizations of our Soldiers is to protect them against diseases here but also against the environments they are being sent to," said Peik. The majority of the American public believes in the power of immunizations, but some individuals may question the safety of immunizations. Research conducted to date has proven immunizations are effective.
"Immunizations in general are vary, vary safe. We have a lot of medical evidence to show that they are safe. There are some very rare instances where people have issues. Those are recorded, logged and those individuals receive appropriate follow up care. The majority of issues are temporary, so we know that vaccines have nearly eradicated or minimized serious diseases across this country and across the world," said Peik.
Springer said he was confident about getting immunizations. "I know there is a debate back and forth but I believe the science is behind getting the vaccination and I know for me I have never had a reaction and I haven not known of anyone to have a reaction. I'd rather be safe than sorry."
Allison, who has deployed three times, is also a fan of receiving immunizations. "There's nothing that supports immunizations as being bad. If you're not getting immunized, then you're just taking another tool out of your bag."
Allison received the MMR vaccine during the exercise. For a second of mild discomfort, Allison believes the immunization is definitely worth receiving.
"Because you don't know what is out there. We're deploying to a lot of countries that are not at the state that we're at, a lot of third world countries, and you can catch anything from Tetanus and other diseases," said
Allison.
Smith said she was pleased with the collaboration efforts to ensure Soldiers received the immunizations required.
"In Public Health, one of our missions is to protect the health. We come in before the disease comes in, before the illness comes in and try to prevent these illnesses. One of our main focuses is immunizations because it is one of the easiest and most effective ways to prevent illnesses."