Clarksville, TN – The weather was perfect Saturday, April 4th for Hilltop Super Market's 20th Annual Easter Egg Hunt. Events started at 11:00am with the egg hunt set for 2:00pm.
There were plenty of activities for the kids like inflatable bounce houses, cupcake decorating, face painting and more. There was food and drink available. Boy Scout Troop 546 was there raising money by selling funnel cakes for $3.00 each.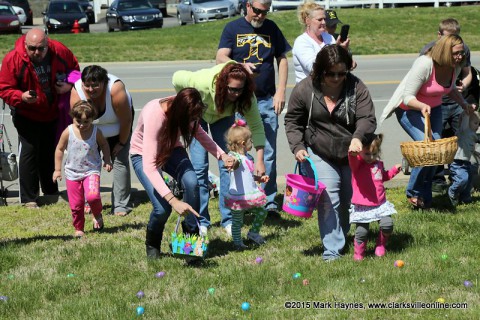 "This is such a great event. I bring the kids out every year and we just have a blast," said April Hamilton. "It's a really great thing Hilltop does for the community and children."
There were over 6,000 Easter eggs with candy, 500 prize eggs and 18 grand prize eggs on the fields this year. The prizes included stuffed animals, hula hoops, Nerf footballs, bubble wands, plastic swords, jump ropes and plenty of others.
The grand prizes this year were 8 bikes, 2 trikes, 2 scooters, 2 fuzion razor scooters as well as a little tike patrol car and princess car.
The Easter egg hunt was broken down into four groups; up to 4 year olds, 5 to 6 year olds, 7 to 9 year olds and the 10 to 12 year old group.
As 2:00pm approached, there were over 900 children lined up to participate as well as over 2,000 parents, grandparents and others. Once the horn sounded, the kids were off scooping up eggs. It didn't take long for the fields to be swept clean of eggs.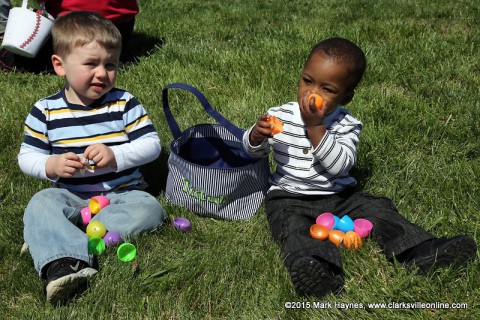 Afterwards, everyone began opening the plastic eggs to see what they had gotten.
"I think everything went really well. It was a record breaking crowd this year," said Hilltop manager Mike Jackson. "All the kids had fun and that's what this is really all about."
An event of this size can only be pulled off with a lot of help. The Montgomery Central High School Cheerleaders, Palmyra Volunteer Fire Department, Girl Scout Troop 560 as well as Hilltop Super Market employees, family and friends all volunteered to help.
"Everyone in the community chipped in to make this event possible," said Jackson. "I want to give a special thanks to all our volunteers and sponsors that help make this event happen."
This year's event is sponsored by: Grandma's House, Wyatt's Body Shop, Cumberland Bank and Trust, Grandmama's House, Mammie's Dinner, Ajax Distributors, Ideal Distributors, Jimmy Miller Construction, Satellite Electronics, Central Pizza, Mark Davis Trucking and Movies -N- More, Central Pizza, Fred's and Clack's Auto Salvage.
For those that did not attend this event, make sure to come out next year to this southern Montgomery County community event. It keeps getting bigger and better each year.
Hilltop Super Market will be holding a community wide yard sale April 11th and May 9th from 7:00am until 3:00pm. Hilltop will also be holding their 1st Annual Country Boy Cook-Off Friday, May 1st. Check the office for details and registration on these upcoming events.
Photo Gallery
About Hilltop Supermarket
Hilltop Supermarket is located at 400 Highway 149, Clarksville TN. From Clarksville, you would take Hwy 48/13 south across the river, turn right on highway 149 and Hilltop Supermarket is located on the left at the top of the hill next to Freds. Hilltop serves the grocery needs of the southern Montgomery county area.
Visit their website at: www.hilltopsupermarket.com.