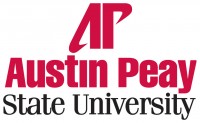 Clarksville, TN – Austin Peay State University's longstanding support of military veterans has led the Tennessee Higher Education Commission (THEC) to name the University a Veterans Education Transition Support (VETS) Campus.

According to THEC, VETS Campus certification is awarded to higher education institutions that "not only prioritize outreach to veterans, but successfully deliver the services necessary to create a supportive environment where student veterans can prosper while pursuing their education."

Austin Peay is one of only four universities in Tennessee to receive this designation, and at 1:30pm on Thursday, May 7th, THEC Interim Executive Director Russ Deaton will officially present APSU President Alisa White with the certificate during a special presentation ceremony in Room 305 of the Morgan University Center. The public is invited to this special event.
To qualify for the VETS Campus designation, institutions must
Conduct an annual campus survey of students who are veterans to identify the views, needs, issues and suggestions of veterans;
Provide information to faculty and staff about military and veterans' culture, including combat-related mental or physical disabilities or other challenges;
Administer orientation programs for students who are veterans;
Facilitate mentoring and support programs for students who are veterans;
Develop outreach and communication strategies for military bases located near the campus, for the purpose of assessing veterans' educational goals and meeting their identified needs;
Create and maintain a process for the assessment of prior learning that grants academic credit to veterans for transferable training and experience attaining through military service; and provide, on the campus website, information on the availability of prior learning assessments and potential program credit for skills, training or education obtained during military service.
Austin Peay, which currently serves more than 1,700 veteran students, is the state's largest provider of higher education to soldiers, veterans and their families. The University works hard to provide assistance and services to these individuals, and major publications and the federal government have praised APSU's efforts.

Earlier this year, G.I. Jobs magazine named the University to its 2015 Military Friendly Schools list. In August, the federal government applauded APSU for being the only school in Tennessee to implement the U.S. Department of Education and the U.S. Department of Veterans Affairs' "8 Keys to Success." That initiative seeks to help veterans succeed on campus.

In 2013, the University partnered with the Department of Veterans Affairs to create the VetSuccess on Campus program. That program put a full-time VA vocational counselor on campus to help veterans transition into student life and assist them in achieving their educational goals.

The University also assists students with a military affiliation through the APSU Center at Fort Campbell, the University's Military Educational Task Force, the Student Veteran Organization and the APSU Military Student Center.

In addition to these services, APSU hosts a Military and Veterans Graduate Recognition Ceremony three times a year. During the ceremony, veterans, reservists and active duty military personnel are given a red, white and blue cord to wear with their cap and gown during commencement. The students are also presented with a special APSU Military Coin. The University created the coin in 2011 as a way to honor these individuals.

This spring's ceremony will be at 5:00pm on Wednesday, May 6th, in the Mabry Concert Hall.

For more information on these services, please visit http://www.apsu.edu/military.



Sections
Education
Topics
Alisa White, APSU, APSU Center at Fort Campbell, APSU George and Sharon Mabry Concert Hall, APSU Military Coin, APSU Morgan University Center, APSU President, Austin Peay State University, Clarksville TN, G.I. Jobs Magazine, Military Friendly Schools, russ Deaton, Tennessee Higher Education Commission, THEC, U.S. Department of Education, U.S. Department of Veterans Affairs, Veterans