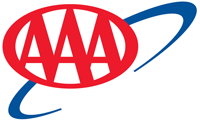 Tampa, FL – Emergencies are one of the fastest ways to put the brakes on a great vacation. While some motorists may not encounter problems, travelers can minimize the risk by planning ahead and preparing properly.
According to the American Driving Survey provided by AAA, Americans drive the most during the summer months, July-September. More than half (55.6%) of calls AAA receives from stranded motorists are due to dead batteries, flat tires, low fuel and lockouts.
AAA service technicians are able to get those motorists back on the road.
The other forty-four percent of stranded motorists have problems that cannot be resolved on the roadside, requiring them to be towed.
"Nothing ruins a summer trip faster than a flat tire, overheated cooling system or battery that quits working on a hot summer day," said Montrae Waiters, AAA spokeswoman. "That's why it is important to perform basic safety checks before you get on the road."
Kicking off the summer driving season, AAA offers theses precautionary tips to ensure you arrive safely:
Car Maintenance:                                              
Get your car inspected by an automotive technician before a long trip.
Check the tires regularly for uneven or excessive tread wear. Make sure all items, including the spare, are inflated properly. Do at least one check BEFORE hitting the road, as tires hot from driving give inaccurate inflation readings.
Check the coolant level and condition, making certain the proper 50/50 mixture of water and coolant is present.
Check the level and condition of the engine oil. If driving under extreme conditions- such as very hot summer weather or pulling a heavy trailer- you may want to consider switching to oil with higher viscosity. Check your owner's manual for specific recommendations.
Look for worn, cracked, blistered or soft belts or hoses. Always perform this check with the engine off.
Hot weather can shorten the life of a car's battery. If there's concern; have it tested by a qualified automotive technician.
Is your car road-trip Ready?
Don't let car trouble spoil your travels this summer. Know what to do if your encounter a problem:
Carry an emergency kit with a flashlight, extra batteries, warning devices such as flares or reflective triangles, jumper cables, a first-aid kit and extra water.
When driving at night on unlit roadways, use high beams whenever possible.
Don't let the gas level get below one-quarter of a tank.
Select your route on a map or smartphone ahead of time and study it to know exactly where you're going. If you have a smart phone- use the new AAA MOBILE app.
Reserve all accommodations in advance.
Lock your car when you leave it and keep valuables out of sight.
AAA offers digital travel planning resources
AAA's digital tools for travel planning 'on the go' include eTourBook guides for tablets and smartphones, available free to members at AAA.com/ebooks. Choose from 101 top North American destinations including city titles, like the award-winning Las Vegas, regions, like Wine Country, and National Parks.
The free AAA Mobile app for iPhone, iPad and Android uses GPS navigation to help travelers map a route, find current gas prices and discounts, book a hotel, and access AAA roadside assistance. Members using the iPad version can access interactive Top Destinations travel guides for 10 popular cities. Travelers can learn more at AAA.com/mobile.
On AAA.com, travelers can find thousands of AAA Approved and Diamond Rated hotels and restaurants using AAA's TripTik Travel Planner or the searchable Travel Guides at AAA.com/Travel. Every AAA Approved establishment offers the assurance of acceptable cleanliness, comfort and hospitality, and ratings of One to Five Diamonds help travelers find the right match for amenities and services.
AAA's projections are based on economic forecasting and research by IHS Global Insight. The Colorado-based business information provider teamed with AAA in 2009 to jointly analyze travel trends during the major holidays. AAA has been reporting on holiday travel trends for more than two decades. The complete AAA / IHS Global Insight 2014 Memorial Day Travel Forecast can be found here.
About The Auto Club Group
The Auto Club Group (ACG) is the second largest AAA club in North America.  ACG and its affiliates provide membership, travel, insurance and financial services offerings to approximately 9 million members across eleven states and two U.S. territories including Florida, Georgia, Iowa, Michigan, Nebraska, North Dakota, Tennessee, Wisconsin, Puerto Rico and the U.S. Virgin Islands; most of Illinois and Minnesota; and a portion of Indiana.
ACG belongs to the national AAA federation with more than 55 million members in the United States and Canada and whose mission includes protecting and advancing freedom of mobility and improving traffic safety.