Clarksville, TN – Looking for a cool way to spend this coming Saturday, July 25th?  Join us at our cookout and box social for "The Music Man"!
Hamburgers and hot dogs, courtesy of Edward's Steakhouse, will be on the grill at 6:30pm, accompanied by sides from Whitt's BBQ.  For those of you who have been eyeing the weather forecasts for the upcoming weekend, never fear … indoor dining will be available, so you can beat the heat in our air-conditioned lobby.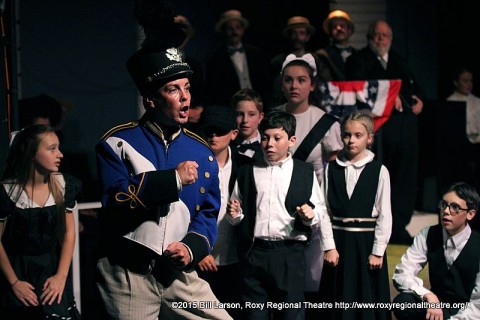 At the box social, Mayor Shinn (played by Tommy Winters) will be auctioning off desserts prepared by Harold, Marian and the rest of the cast.  Here's just a taste to whet your appetite … our Marian Paroo, Mary Malaney, is whipping up her recipe for lemon bars; while Mrs. Parro, Jackie Ostick, is proffering her family's traditional homemade ice cream.  Our Harold Hill, John Adkison, is making buttermilk strawberry shortcakes; and James Hansen, who last appeared as Bert in "Mary Poppins" and is now a member of "The Music Man's" barbership quartet, is preparing vegan peanut butter and chocolate chip cookies.
Admission to the cookout and box social, which includes the 8:00pm performance of "The Music Man", is $40.00 (adults) and $25.00 (ages 13 and under).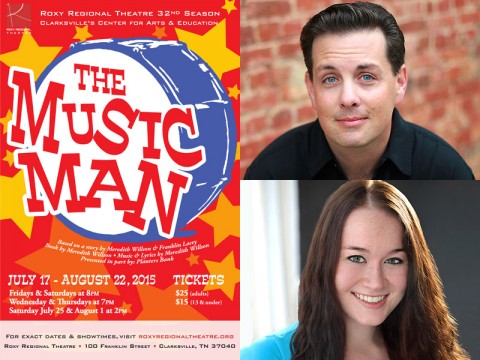 Tickets may be purchased online via the below button, or you can bypass the ticketing fees by reserving by phone at 931.645.7699 or at the theatre during regular box office hours (9:00am to 2:00pm, Monday through Friday).
Performances of "The Music Man" continue through August 22nd, on Wednesdays and Thursdays at 7:00pm and Fridays and Saturdays at 8:00pm, with 2:00pm matinees this Saturday, July 25th, and Saturday, August 8th.
Tickets are $25.00 (adults) and $15.00 (ages 13 and under).  Active-duty military, APSU students and CitySaver coupon holders can receive two tickets for the price of one to Wednesday and Thursday performances.
The Roxy Regional Theatre is located at 100 Franklin Street in Clarksville, TN.
Roxy Has New Subscription Packages
Save money on tickets, and see all of the great offerings in the Roxy Regional Theatre's 33rd Season!  With savings ranging from $20.00 to $145.00, this is an offer you cannot afford to miss … but hurry, as it only lasts until Thursday, August 27th.
For more information, please visit the Roxy Regional Theatre's website or vendini..
Support the Roxy when you Shop at Kroger
If you have not already signed up for the Kroger Community Rewards program, please remember that you can help out the Roxy Regional Theatre every time you shop at Kroger and swipe your Plus Card! Under the Kroger Community Rewards program, the Roxy can earn part of $2.5 million that Kroger contributes locally each year … so the more people who list the Roxy Regional Theatre as their preferred charity, the more funds will come back to support the Roxy!
Register your Kroger Plus Card at www.krogercommunityrewards.com, and use the Roxy's NPO Number 38553.
Support the Roxy when you Shop at Amazon.com
When you take advantage of all of the great deals on Amazon.com, you can support the Roxy with your purchases! By clicking this link and selecting the Roxy Regional Theatre as your charitable organization, Amazon will donate 0.5% of the price of your eligible AmazonSmile purchases to your favorite theatre: http://smile.amazon.com/ch/62-1251376.