APSU Sports Information

Clarksville, TN – A formidable nonconference slate awaits Austin Peay State University's baseball team under first-year head coach Travis Janssen as the team's 2016 slate was released publicly, Friday.
Just 119 days separate Austin Peay from its regular-season opener, February 19th, against Bradley. The Braves, who will play a three-game set at Raymond C. Hand Park, posted a 35-18 record last season and reached the NCAA Tournament.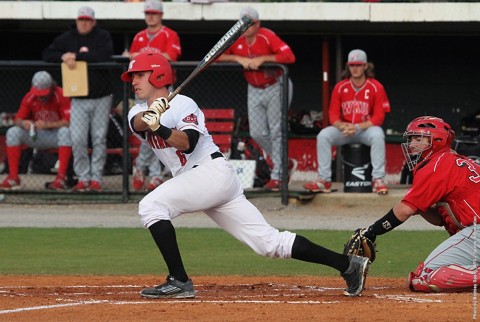 While the Bradley series kicks off the campaign, the Govs will conclude the 2016 season when Big 12 opponent Oklahoma visits Clarksville for a three-game set, May 19th-21st. Oklahoma compiled a 34-26 record last season.
Bradley and Oklahoma are two of nine opponents on Austin Peay's 2016 slate to finish 2015 ranked among the RPI Top 100. The Braves finished ranked No. 19 while Oklahoma was No. 77. Joining them are Missouri State (44-20 record, No. 8), Connecticut (35-24, No. 47), Kentucky (30-25, No. 58), Memphis (37-20, No. 68), Middle Tennessee (32-26, No. 73), Lipscomb (38-18, No. 82) and Evansville (29-24, No. 99).
The Bradley series is the start of a season-opening seven-game Govs homestand. They will host Southern Illinois in a midweek contest before hosting the Governors Challenge, February 26th-28th. Austin Peay will host NCAA Super Regional participant Missouri State along with Connecticut and Alcorn State.
An eight-game road trip follows with a March 2nd contest at Kentucky. The Govs then will travel to Mercer (March 4th-6th) and Arkansas State (March 8th-9th) before returning home.
The Govs return home to start the 30-game Ohio Valley Conference slate. This season, Austin Peay will host Eastern Illinois (March 11th-13th), Murray State (March 24th-26th), Southeast Missouri (April 8th-10th), Eastern Kentucky (April 22nd-24th) and UT Martin (May 6th-8th).
Austin Peay's road OVC series begins with a March 18th-20th series at Jacksonville State that will serve as a homecoming for Janssen. The Govs also will face Tennessee Tech (April 1st-3rd), Belmont (April 15th-17th), Morehead State (April 29th-May 1st) and SIU Edwardsville (May 13th-15th) in road series.
Interspersed among the conference schedule are four of the Govs traditional home-and-home series. The Govs will face Western Kentucky, Evansville, Middle Tennessee and Lipscomb in those midweek outings. In addition, a home affair against Northern Illinois, a trip to Southern Illinois and a contest at Memphis will be midweek affairs during the conference schedule.
The regular-season slate leads up to the OVC Baseball Championship which will return to The Ballpark at Jackson for the fifth year. The 2016 edition will start May 25th prior to the Memorial Day holiday weekend.
2016 APSU Baseball Schedule
Date
Opponent
Location
Time/Result
2/19/2016

Bradley

Clarksville

TBA
2/20/2016

Bradley

Clarksville

TBA
2/21/2016

Bradley

Clarksville

TBA
2/23/2016

Southern Illinois

Clarksville

TBA
Governors Challenge
2/26/2016

Missouri State vs. Connecticut

Clarksville

TBA
2/26/2016

Alcorn State

Clarksville

TBA
2/27/2016

Connecticut

Clarksville

TBA
2/27/2016

Alcorn State vs. Missouri State

Clarksville

TBA
2/28/2016

Missouri State

Clarksville

TBA
2/28/2016

Connecticut vs. Alcorn State

Clarksville

TBA
3/2/2016
Kentucky
Lexington, Ky.
TBA
3/4/2016
Mercer
Macon, Ga.
TBA
3/5/2016
Mercer
Macon, Ga.
TBA
3/6/2016
Mercer
Macon, Ga.
TBA
3/8/2016
Arkansas State
Jonesboro, Ark.
TBA
3/9/2016
Arkansas State
Jonesboro, Ark.
TBA
3/11/2016
*

Eastern Illinois

Clarksville

TBA
3/12/2016
*

Eastern Illinois

Clarksville

TBA
3/13/2016
*

Eastern Illinois

Clarksville

TBA
3/16/2016

Northern Illinois

Clarksville

TBA
3/18/2016
*
Jacksonville State
Jacksonville, Ala.
TBA
3/19/2016
*
Jacksonville State
Jacksonville, Ala.
TBA
3/20/2016
*
Jacksonville State
Jacksonville, Ala.
TBA
3/22/2016
Western Kentucky
Bowling Green, Ky.
TBA
3/24/2016
*

Murray State

Clarksville

TBA
3/25/2016
*

Murray State

Clarksville

TBA
3/26/2016
*

Murray State

Clarksville

TBA
3/29/2016
Southern Illinois
Carbondale, Ill.
TBA
4/1/2016
*
Tennessee Tech
Cookeville
TBA
4/2/2016
*
Tennessee Tech
Cookeville
TBA
4/3/2016
*
Tennessee Tech
Cookeville
TBA
4/5/2016
Middle Tennessee
Murfreesboro
TBA
4/6/2016

Western Kentucky

Clarksville

TBA
4/8/2016
*

Southeast Missouri

Clarksville

TBA
4/9/2016
*

Southeast Missouri

Clarksville

TBA
4/10/2016
*

Southeast Missouri

Clarksville

TBA
4/12/2016
Memphis
Memphis
TBA
4/15/2016
*
Belmont
Nashville
TBA
4/16/2016
*
Belmont
Nashville
TBA
4/17/2016
*
Belmont
Nashville
TBA
4/19/2016

Lipscomb

Clarksville

TBA
4/22/2016
*

Eastern Kentucky

Clarksville

TBA
4/23/2016
*

Eastern Kentucky

Clarksville

TBA
4/24/2016
*

Eastern Kentucky

Clarksville

TBA
4/27/2016

Evansville

Clarksville

TBA
4/29/2016
*
Morehead State
Morehead, Ky.
TBA
4/30/2016
*
Morehead State
Morehead, Ky.
TBA
5/1/2016
*
Morehead State
Morehead, Ky.
TBA
5/6/2016
*

UT Martin

Clarksville

TBA
5/7/2016
*

UT Martin

Clarksville

TBA
5/8/2016
*

UT Martin

Clarksville

TBA
5/10/2016

Middle Tennessee

Clarksville

TBA
5/11/2016
Evansville
Evansville, Ind.
TBA
5/13/2016
*
SIUE
Edwardsville, Ill.
TBA
5/14/2016
*
SIUE
Edwardsville, Ill.
TBA
5/15/2016
*
SIUE
Edwardsville, Ill.
TBA
5/17/2016
Lipscomb
Nashville
TBA
5/19/2016

Oklahoma

Clarksville

TBA
5/20/2016

Oklahoma

Clarksville

TBA
5/21/2016

Oklahoma

Clarksville

TBA