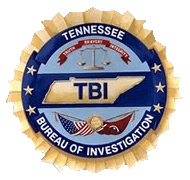 Nashville, TN – An investigation by Special Agents with the Tennessee Bureau of Investigation (TBI) has resulted in the arrest of a Lafayette woman who is charged with multiple counts of forgery and filing false insurance claims.
At the request of 20th District Attorney General Glenn Funk, TBI Special Agents began investigating Amy Crawford on December 9th, 2014. Crawford worked as a medical assistant for Pinnacle Surgical Partners in Hermitage from December 2013 through June 2014.
During the course of the investigation, Agents developed information that during that time, Crawford had falsified prescriptions for compound medication, using the provider information for one of the clinic's physicians to authorize the prescriptions.
Agents learned that Crawford submitted those prescriptions to a pharmacy in Florida, which generated more than $152,957 in insurance claims paid by Blue Cross Blue Shield of Tennessee.
On October 16th, the Davidson County Grand Jury returned indictments charging Crawford, 36, with four counts of False or Fraudulent Insurance Claims and two counts of Forgery. Crawford was arrested on those charges Tuesday and booked into the Davidson County Jail. She was released after posting a $15,000 bond.