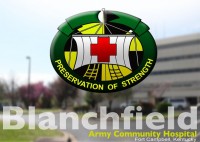 Fort Campbell, KY – In honor of Christmas and New Year's Day, Blanchfield Army Community Hospital personnel will observe the federal holidays December 25th and January 1st.

Therefore, all Soldier and Patient-Centered Medical Homes and pharmacies will be closed. The hospital remains open 24 hours a day, seven days a week, for emergency services, inpatient care, and labor and delivery services.

Specialty and surgical services will be closed for a Day of No Scheduled Activities December 24th, Christmas Eve, and December 31st, New Year's Eve. Patient-Centered Medical Homes will remain open on the DONSA for half a day on Christmas Eve and a full day on New Year's Eve.

Soldiers assigned to a Soldier-Centered Medical Home, including Byrd, LaPointe, and Aviation, will be seen in the Air Assault Family Medical Home within the hospital on the DONSAs.

Young Eagle Medical Home patients will also be seen in the Air Assault Family Medical Home Christmas Eve and December 28th – 30th.

The Town Center pharmacy will open from 8:00am to noon and will be the only pharmacy services offered at Fort Campbell December 24th. The Town Center Pharmacy will operate normal Saturday hours December 26th. The hospital's Main Pharmacy will open from 8:00am to 4:00pm and the Town Center Pharmacy will open from 8:00am to 5:00pm December 31st.

In addition, the Patient and Soldier-Centered Medical Homes, specialty and surgical services will offer limited services after noon December 18th. LaPointe, Byrd and Screaming Eagle Medical Home Pharmacies will close at noon December 18th and the Town Center Pharmacy will close at 1:00pm. The Main Pharmacy will remain open until 4:00pm with limited staffing to handle acute medication needs.

"As we come to the end of 2015, we hope that you, your family and friends have experienced many blessings and a healthy year," said Col. Telita Crosland. "We encourage you to be safe this holiday season and always practice healthy lifestyle choices. Thank you for continuing to partner with us as you allow us to assist you with your personal medical goals. We want to continue to support you in maximizing your health and wellness goals throughout 2016."

Appointments may be scheduled or canceled 24 hours a day, seven days a week at www.TRICAREonline.com

Some medical concerns may be resolved through a telephone consultation by sending a secure message through Army Medicine's Secure Messaging System, powered by Relay Health, by calling the Nurse Advise Line at 1.800.874.2273 and selecting Option 1 or by contacting the Call Center at 270.798.4677 or 931.431.4677.



Sections
News
Topics
Air Assault Family Medical Home, Aviation Medical Home, Bach, Blanchfield Army Community Hospital, Byrd Medical Home, Christmas, Christmas Eve, Day of No Scheduled Activities, DONSA, Fort Campbell KY, LaPointe Soldier Medical Home, Main Pharmacy, New Year's Day, New Year's Eve., Telita Crosland, Town Center Pharmacy, Young Eagle Medical Home