Written by Sgt. William White
Headquarters, 101st Airborne Division (Air Assault)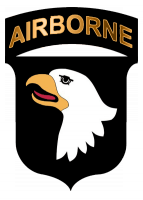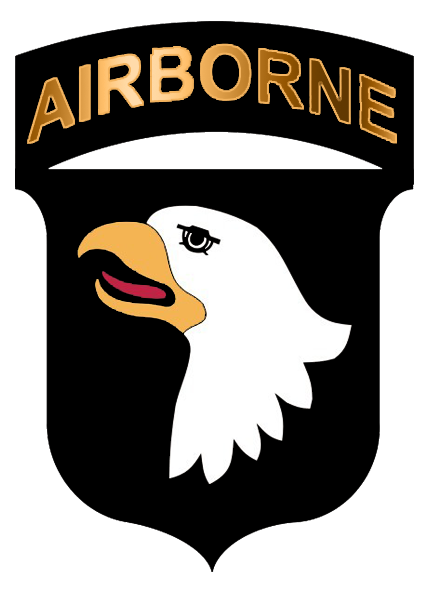 Fort Campbell, KY – U.S. Secretary of Defense Ashton B. Carter visited 101st Airborne Division (Air Assault) Soldiers at Fort Campbell. January 13th, 2016.
Carter wanted to speak to 101st Airborne Division Soldiers directly prior to their upcoming deployment in support of Operation Inherent Resolve, in which they will work to train, advise and assist the Iraqi army to defeat the ISIL.
"Frankly, I know the 101st has taken Mosul before, and you could do it again," Carter said while speaking to more than 200 Screaming Eagle Soldiers set to deploy in the coming weeks. "We could deploy multiple brigades on the ground and arrive in force, but then it would likely become our fight and our fight alone."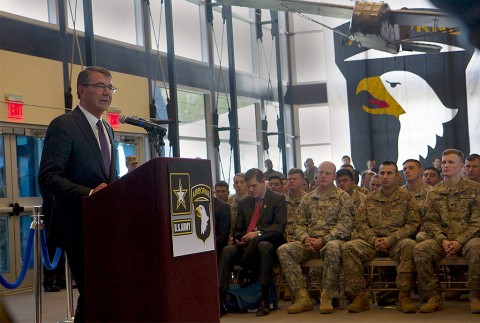 He also reaffirmed that we cannot leave Syria and Iraq to their fates.
"That kind of indirect approach simply cannot succeed in today's connected and volatile world. That would just give ISIL a safe haven for which to spread its destructive influence and it would surrender the strong and global leadership that the United States stands for. So we can't ignore this fight and we also can't win it from the outside in. That's why our strategic approach is to help local, motivated and capable forces in every way that we can without taking their place. That's why your mission is central to our strategy."
Carter explained to the 101st Soldiers that the U.S. presence has adapted and no longer calls for a significant ground combat role, but requires us to work closely with Iraqi forces as they fight ISIL.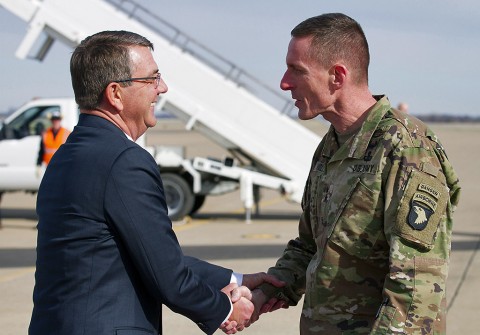 "Training advising and assisting, rather than trying to substitute entirely, is the right approach," Carter said. "We are going to enable local, motivated forces and an international coalition with a clear campaign plan, with American leadership and with all of our awesome capabilities from airstrikes, special forces, cyber tools, intelligence, equipment, mobility and logistics, training, advise and assistance from those on the ground, including you."
"As the president said we must, we can and we will deliver a lasting defeat to ISIL," Carter said referencing President Barack Obama's State of the Union speech from January 12th, 2015.
Carter's speech touched on many of the topics from the President's address, especially homeland security, as it takes a forefront in the wake of increasing terrorism activity around the world.
As we destroy [ISIL], we are constantly mindful of our most important mission: protecting the homeland and the American people.
Video