Austin Peay Sports Information

Martin, TN – Austin Peay State University women's basketball team could not overcome UT Martin's early three-point salvo, losing a 75-51 Ohio Valley Conference decision, Wednesday night, at the Elam Center.
The game was decided in the final 4:33 of the first quarter when UT Martin (15-7, 8-1 OVC) hit seven three pointers in 10 possessions.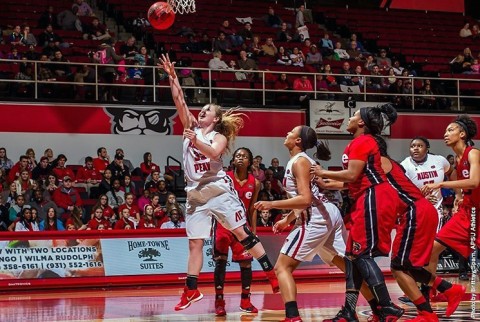 The Skyhawks led by just four points, 11-7, at the media timeout with 4:57 left. Redshirt junior Jessy Ward hit a three-pointer on each of UTM's next three possessions, pushing the lead to 20-7 in just 1:04.
Those three baskets were the first of five consecutive shots made by the Skyhawks. Then, after failing to score on consecutive possessions, UT Martin ended the quarter with three consecutive three-pointers again. Freshman guard Myah Taylor hit a pair of those shots, including one just before the horn that capped the 23-0 run and gave UTM a 34-7 lead after the first quarter.
Austin Peay (7-16, 5-5 OVC) was unable to solve the UT Martin press over the final 5:25 of the first quarter. The Govs did not score in that final span, committing eight turnovers and missing six field goals. APSU's drought came to an end early in the second quarter when senior forward Symantha Norton hit a jumper 43 seconds into the frame.
The Governors would go on to win the second quarter, 18-12. Austin Peay would get back within 18 points twice in the second when senior guard Tiasha Gray hit three pointers on back-to-back possessions, but they could not cut into the deficit further and trailed 46-25 at halftime.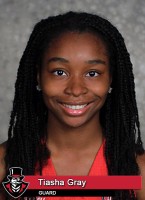 Austin Peay had one more burst in the fourth quarter, converting on four consecutive possessions. Gray's three pointer with 6:10 left would end the 9-3 run and trim the deficit to 20 points, 65-45, but the Skyhawks responded with the game's next seven points to end any threat.
Gray led Austin Peay with 20 points on 8-of-20 shooting while adding eight rebounds and four steals. It was her third consecutive 20-point outing, but each of those has resulted in an APSU loss.
Howard led UT Martin with 25 points, converting on 7-of-14 from three-point range. Ward added 19 points on 5-of-10 from three-point range. The Skyhawks made 17 three-pointers in the contest, making an impressive 48.6 percent from outside the arc.
Austin Peay, which has its first three-game losing streak of the 2016 calendar year, continues its four-game OVC road trip with a 5:00pm, Saturday contest at Murray State.
Box Score
Austin Peay (7-16/5-5 OVC) 51, UT Martin (15-7/8-1 OVC) 75
| | 1 | 2 | 3 | 4 | Total |
| --- | --- | --- | --- | --- | --- |
| Austin Peay | 7 | 18 | 11 | 15 | 51 |
| UT Martin | 34 | 12 | 16 | 13 | 75 |
Austin Peay 51
Player
FGM
-FGA
3FGM
-3FGA
FTM
-FTA
OFF
-DEF
TOT
PF
TP
A
TO
BLK
STL
MIN
1
Gray, Tiasha
8-20
4-7
0-0
1-7
8
1
20
1
6
0
4
33
33
Baker, Falon
3-9
1-4
0-0
2-0
2
1
7
4
2
0
0
29
24
Rates, Beth
3-7
0-0
0-0
2-4
6
2
6
1
0
0
0
26
23
Gooch, Sydney
2-4
0-0
0-0
0-5
5
2
4
1
2
1
0
19
42
Norton, Symantha
1-2
0-1
0-0
1-1
2
1
2
0
1
0
0
20
12
Rich, Madison
2-5
1-3
0-0
0-1
1
2
5
1
0
0
1
16
11
Alexander, Brianne
1-3
0-0
0-0
2-2
4
2
2
0
4
1
0
19
3
Rivers, April
1-3
0-1
0-0
0-4
4
1
2
0
2
0
1
16
13
Olszewski, Shelby
1-1
0-0
0-0
0-0
0
0
2
0
0
0
0
2
22
Gregory, Keisha
0-2
0-1
1-2
0-1
1
0
1
2
1
0
0
14
2
Hall, J'Nayah
0-0
0-0
0-0
0-0
0
0
0
1
0
0
0
2
25
Banks, Tearra
0-0
0-0
0-0
0-0
0
1
0
0
1
0
0
2
54
Maki, Lauren
0-1
0-0
0-0
0-2
2
0
0
0
0
0
0
2
TM
TEAM
0-0
0-0
0-0
1-1
2
0
0
0
0
0
0
0
Totals
22-57
6-17
1-2
9-28
37
13
51
11
19
2
6
200
UT Martin 75
Player
FGM
-FGA
3FGM
-3FGA
FTM
-FTA
OFF
-DEF
TOT
PF
TP
A
TO
BLK
STL
MIN
23
Howard, Haley
9-18
7-14
0-0
0-2
2
2
25
2
1
1
0
30
21
Ward, Jessy
7-13
5-10
0-0
1-0
1
0
19
1
1
0
3
33
4
Robertson, Emanye
1-2
0-0
6-6
0-3
3
0
8
7
2
1
1
38
20
Schubert, Katie
2-4
2-2
0-0
0-4
4
0
6
7
2
1
2
33
14
Roberts, Chelsea
1-2
1-2
2-2
1-6
7
2
5
2
4
0
1
24
33
Taylor, Myah
3-9
2-6
1-1
0-2
2
0
9
2
2
1
0
18
44
Copney, Shy
1-5
0-1
1-2
0-4
4
1
3
0
1
1
3
20
34
Taylor, Barianne
0-0
0-0
0-0
0-0
0
0
0
0
0
0
0
2
42
Reedy, Tory
0-1
0-0
0-0
1-0
1
0
0
0
0
0
0
2
TM
TEAM
0-0
0-0
0-0
0-5
5
0
0
0
0
0
0
0
Totals
24-54
17-35
10-11
3-26
29
5
75
21
13
5
10
200