Clarksville, TN – David Mallet is a folk singer and song writer whose name you may or may not know. Originally from Maine, he lived in Nashville for many years but returned to his home state in 1997. His signature theme is called "Garden Song" and contains the line, "We are made of dreams and bones." Somehow this describes the human condition as only a poet can.
When educating a child, one has to always keep in mind the dual side of our existence on this planet. It's not uncommon when you are working diligently on some concept to be interrupted by a kindergartener or first grader who claims dramatically that he is bleeding and be shown a pinprick at the end of a tiny finger. The intellect and physical life of a child are always interconnected.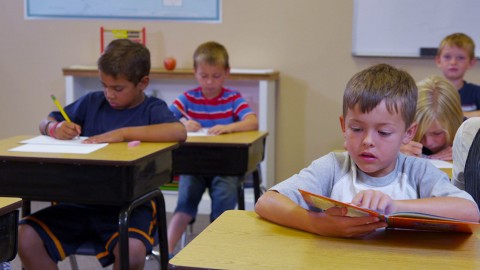 The inner workings of the human body are quite a mystery to children. I learned this first hand a few years ago when I taught health (in addition to my duties as a music and writing teacher) to third-, fourth- and fifth-graders. They had not been introduced extensively to how various organs of their bodies worked and had little clue of the basic facts of nutrition. Health is a subject that was consequently (the next year) deemed by those who determine curriculum to be "not a high priority" and so my days of teaching health ended after one year.
The total emphasis on the extensive curriculum in every "basic" subject (language arts, math, social studies and science) is the cause of certain other subjects (like health) having to be put on the back burner of education. To understand what I'm talking about, you'd have to see the long list of items each teacher is supposed to cover every day in the classroom; there simply isn't time any more for things like cursive writing to be covered.
We are now reevaluating how important it is to teach algebra in first grade. The new standards involve a return to basics like adding, subtracting, multiplying and dividing in the math curriculum.
Words fail me when it comes to wondering how those who decided to add all the extraneous information supposed to be taught over the past few years in the math curriculum came to their conclusions. I suspect when it became evident that kids had a serious lack of understanding of the basics that a need for change was then deemed critical. As has historically become the rule rather than the exception, some educators in control of the overall concept of public education are lacking in common sense. Only glaring statistics can make them see the error of their ways.
I am personally concerned also that most children seem to have little idea that subjects taught in isolation are interdependent. Since music is a part of life at many levels, I see children amazed that the lives of people (identified as social studies) affect their music and that poetry (language arts to the child) is an essential part of music. The concept of math as basic to music is also somewhat of a jolt to the mind of a child who believes in "pure" subjects as taught in the rest of the curriculum. Teaching that music helps you learn better in other subjects is also mind-boggling to some.
In the days of the one-room school, children in one grade heard the recitations of older children and explanations by the teacher of more advanced material on a daily basis. Today, as each grade is isolated from another, this carryover is absent.
What is the dilemma for an educator is the teaching of the whole child. The blending of an understanding of intellectual knowledge and instruction for health and well-being of a child are intertwined. The overall integration of the educational process can be successful only to the extent that every educator in the school is able to see an overall plan and work in cooperation with peers.
One of the best strategies in schools is the setting aside of time for cooperative planning among teachers and assistants. When the teachers of any one grade are allowed to sit down together at least on a weekly basis, the results are better planning and coverage of the standards for the week. When, in the summer or during planning days, teachers from one grade are allowed to plan with the teachers in the grade before and after the one in which they teach, an overall plan can be established.
When parents participate in the days set aside for teacher-parent conferences, parents can play a pivotal role in making sure their children are getting information that will help them succeed both now and in the future. Many teachers are in daily contact with parents now through e-mail or phone calls. Cooperation in the key to creating a sound educational environment for every child.
Of course, not every child has a parent or guardian who becomes involved. This is where problems begin, grow worse and can ultimately result in severe consequences one way or another. Some caretakers—even when confronted by information that the child is giving evidence of emotional or other difficulties—prefer to take a "Yes, I see that, but I'm going to wait and see what happens before I do anything" attitude. This is where frustration for the educator occurs. Some types of intervention for children cannot occur without parental consent. No educator wants to see a child become despondent to the point of indicating suicidal intent or to see a child act out to the point that security is breached.
Children too are made of dreams and bones. When a child expresses the feeling that he has no dreams, the child is in serious difficulty. When a child acts out to the point of injuring himself or others, he either does not understand the concept of "consequences" or is in an emotional state that requires immediate intervention, or both.
Educating a child is a serious responsibility that involves caring at a deep level and requires intelligence, training and common sense to handle a myriad of situations.
Teaching is a high calling. It is not for the weak nor the ineffective. Teaching is the pathway to making dreams come true and to providing a successful life.