AAA finds two-thirds of American motorists are concerned about potholes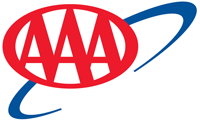 Knoxville, TN – As snow and ice begins to melt on roadways, the asphalt becomes compromised. Potholes are formed by water intrusion in the cracks of the asphalt. As a result, the material laid underneath the road softens causing weak spots to collapse under the weight of constant traffic.
AAA cautions drivers to remain alert to avoid pothole damage and urges state and local governments to fully fund and prioritize road maintenance to reduce vehicle damage, repair costs and driver frustration.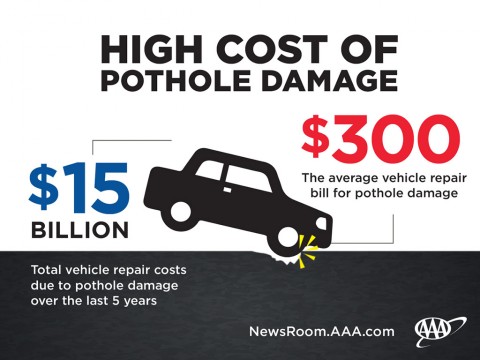 According to AAA's survey, pothole damage has cost U.S. motorist approximately 3 billion annually in vehicle repairs over the last five years. "This is definitely a concern," said Don Lindsey, Tennessee Public Affairs Director, AAA – The Auto Club Group. "It's critical that state and local governments focus on road maintenance to reduce cost for motorists, but safety should be the number one concern. Potholes can lead to car accidents when motorists are forced to swerve to avoid them leading to a crash with another vehicle, putting their lives and the lives of others at risk."
To minimize vehicle damage and loss of life, AAA advises motorists to make certain tires are properly inflated and have adequate tread depth. If motorists can't avoid striking a pothole, it is important to slow down, release the brakes and straighten steering before making contact with the pothole.
AAA offers the following recommendations:
To avoid striking a pothole, remain alert, scan the road ahead and drive at least 3-4 seconds behind the vehicle ahead.
Since tires are the only "cushion" between a pothole and a vehicle, it's important to ensure tires are properly inflated and have adequate tread depth.
Check to see if your vehicle is equipped with a spare tire or a tire inflator kit. Ensure the spare tire is properly inflated before trouble strikes.
Key findings:
15 percent of U.S. drivers (16 million motorists) report sustaining vehicle damage that requires repair as a result of hitting a pothole at least once in the last five years.
20 percent of drivers in the Northeast
16 percent of drivers in the South
15 percent of drivers in the West
10 percent of drivers in the Midwest
Every year, AAA responds to more than four million calls for flat tire assistance, many the result of damage caused by potholes. Spare tires, an important feature missing from one-third of 2015 model year vehicles sold, are critical for drivers affected by pothole damage.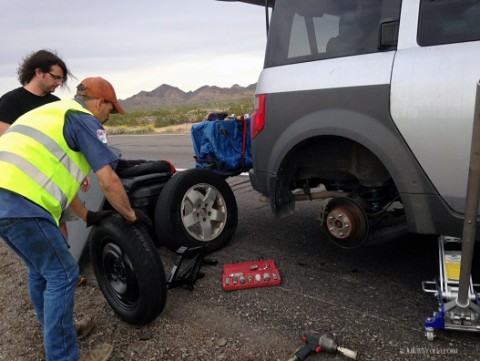 Tire inflator kits have replaced the spare tire in millions of vehicles over the last 10 model years and, due to their limited functionality, cannot provide even a temporary fix for pothole damage. AAA has called on automakers to put consumer interests first and halt the elimination of spare tires in new models.
When dealing with vehicle damage, it's critical to select a high-quality repair facility such as an AAA Approved Auto Repair (AAR) shop who welcomes all motorists. Once a facility meets AAA's high standards, including certifications, technical training, cleanliness, insurance requirements and background checks, it becomes part of the AAR program where it's re-inspected annually and monitored for ongoing customer satisfaction.
AAA members receive unique benefits, including priority service, a 24-month/24,000-mile warranty, special discounts, free inspections, dispute resolution assistance and more. To find an AAR facility near you, visit
AAA.com/Repair
.
If faced with roadside trouble, including a flat tire, AAA is available to help 24 hours a day, 365 days a year. AAA members can request assistance by calling (800) AAA-HELP, visiting AAA.com/RoadsideAssistance or via the AAA Mobile App. To become a member, visit AAA.com/join.
About The Auto Club Group
The Auto Club Group (ACG) is the second largest AAA club in North America. ACG and its affiliates provide membership, travel, insurance and financial services offerings to over 9 million members across eleven states and two U.S. territories including Florida, Georgia, Iowa, Michigan, Nebraska, North Dakota, Tennessee, Wisconsin, Puerto Rico and the U.S. Virgin Islands; most of Illinois and Minnesota; and a portion of Indiana.
ACG belongs to the national AAA federation with more than 56 million members in the United States and Canada and whose mission includes protecting and advancing freedom of mobility and improving traffic safety.