APSU Sports Information

Clarksville, TN – Austin Peay State University's baseball team fell into an early hole and then couldn't capitalize on its opportunities late in a 9-7 loss to Bradley, Sunday, at Raymond C. Hand Park.
After two scoreless innings that saw both teams squander scoring opportunities, Bradley (1-2) was the first to break through with a seven-run third inning.
The Braves sent 11 men to the plate and used three infield singles to capitalize on three walks (two with the bases loaded) issued by Govs pitchers.
Catcher Zach Fairchild delivered one of only two hits to escape the infield with his two-run double down the third base line.
Austin Peay (2-1) cracked the scoreboard in its half of the third, striking for four runs after a Bradley error. Left fielder Cayce Bredlau reached on a fielder's choice when a throw to second to catch Gray pulled the defender off the bag, loading the bases.
The Govs followed with three RBI producing at-bats, including first baseman Dre Gleason's two-run double down the right field line, cutting the deficit to 7-4.
Gleason slashed the deficit to one run, 7-6, with his two-run home run in the fifth, but Austin Peay missed golden opportunities to score in the sixth and seventh innings. Center fielder Imani Wilis led off the sixth with a double, but was stranded at third base after a pair of ground outs and a strike out.
However, it is the seventh inning that may well haunt the Govs. Austin Peay saw designated hitter Alex Robles single with one out and then moved to third on Gleason's double off the wall in right center.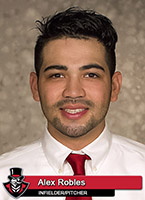 Bradley then intentionally walked shortstop Clayton Smithson to load the bases with one out. The gambit paid off as reliever Allan Beer retired the first two batters he faced to end the inning.
Bradley would extend its lead with single runs in the eighth and ninth innings. The Braves turned a leadoff hit batsman into a run in the eighth with a sacrifice bunt, single and sacrifice fly in succession. Bradley's ninth-inning insurance run came with two out when it earned a base on balls and hit back-to-back singles to push the run home.
The Govs had one last opportunity in its half of the ninth as Bredlau doubled to start the frame and Robles singled through the infield. However, APSU could only produce a sacrifice fly to set the final score.
Gleason pieced together the best outing of his Governor career, going 4-for-5 with three doubles, a home run and four RBI. Robles and second baseman Garrett Copeland also had two hits each.
Austin Peay starter Zach Neff (0-1) tossed two scoreless innings but could not escape the third and suffered the loss.
He allowed seven runs on six hits and three walks in 2.1 innings. He was one of eight APSU pitchers to see action in the loss.
Fairchild and second baseman DJ Glasso each had two RBI to pace the Bradley offense, which saw four hitters post two hits each.
Bradley reliever Eric Scheuermann (1-0) picked up the win after entering the game in the third with the tying run aboard and proceeding to hold the Govs at bay for 3.2 innings, allowing only Gleason's two-run home run.
Closer Allan Beer picked up his first save after allowing one run over the final 2.2 innings.
Austin Peay continues its season-opening seven-game homestand when it hosts Missouri Valley Conference foe Southern Illinois in a 3:30pm, Tuesday contest.
Box Score
Bradley (1-2) -vs- Austin Peay (2-1)
| | 1 | 2 | 3 | 4 | 5 | 6 | 7 | 8 | 9 | | | R | H | E |
| --- | --- | --- | --- | --- | --- | --- | --- | --- | --- | --- | --- | --- | --- |
| Bradley | 0 | 0 | 7 | 0 | 0 | 0 | 0 | 1 | 1 | | 9 | 11 | 1 |
| Austin Peay | 0 | 0 | 4 | 0 | 2 | 0 | 0 | 0 | 1 | | 7 | 13 | 1 |
W: Scheuermann, Eric (1-0) L: NEFF, Zach (0-1) S: Beer, Allan (1)

Bradley 9
Position
Player
AB
R
H
RBI
BB
SO
LOB
3b
Gaa, Spencer
2
0
1
0
0
0
0
pr/3b
Mangieri, Luke
2
1
1
1
1
1
0
ss
Leffler, Tyler
6
1
2
0
0
1
4
dh
Garon, Jean-Francois
4
0
2
1
0
1
0
1b
Solka, Paul
3
1
0
0
1
0
1
cf
Shadid, Andy
3
1
0
1
2
0
2
lf
Gruener, Evan
4
1
1
1
1
3
0
c
Fairchild, Zach
3
2
1
2
2
1
2
rf
Weber, Carson
5
1
2
1
0
1
1
2b
Gasso, DJ
3
1
1
2
0
1
1
p
Stong, Brent
0
0
0
0
0
0
0
p
Cilano, Ben
0
0
0
0
0
0
0
p
Scheuermann, Eric
0
0
0
0
0
0
0
p
Beer, Allan
0
0
0
0
0
0
0
Totals
35
9
11
9
7
9
11
Austin Peay 7
Position
Player
AB
R
H
RBI
BB
SO
LOB
2b
COPELAND, Garrett
5
1
2
0
0
0
0
rf
BLACKBURN, Kyle
3
0
1
0
0
1
0
ph/rf
WILSON, Josh
2
0
0
0
0
0
0
3b
GRAY, Logan
3
1
0
0
2
2
2
lf
BREDLAU, Cayce
5
3
2
0
0
1
0
dh
ROBLES, Alex
5
0
2
1
0
1
2
1b
GLEASON, Dre
5
2
4
4
0
0
0
ss
CONROY, TJ
1
0
1
1
1
0
0
pr/ss
SMITHSON, Clayton
0
0
0
1
1
0
0
c
SALA, Alex
1
0
0
0
0
1
0
ph
HAMILTON, Chase
1
0
0
0
0
0
1
c
MARIK, T.J.
2
0
0
0
0
1
0
ph
SMITH, Ridge
1
0
0
0
0
0
1
cf
WILLIS, Imani
4
0
1
0
0
0
4
p
NEFF, Zach
0
0
0
0
0
0
0
p
HARMON, Jordan
0
0
0
0
0
0
0
p
HEAGARTY, Ricky
0
0
0
0
0
0
0
p
NEWBERG, Brett
0
0
0
0
0
0
0
p
POWELL, Caleb
0
0
0
0
0
0
0
p
RYE, Josh
0
0
0
0
0
0
0
p
CARKUFF, Jared
0
0
0
0
0
0
0
p
SPARKS, John
0
0
0
0
0
0
0
Totals
38
7
13
7
4
7
10
Bradley
| Player | IP | H | R | ER | BB | SO | WP | BK | HBP | IBB | AB | BF | FO | GO | NP |
| --- | --- | --- | --- | --- | --- | --- | --- | --- | --- | --- | --- | --- | --- | --- | --- |
| Stong, Brent | 2.0 | 2 | 0 | 0 | 1 | 3 | 0 | 0 | 0 | 0 | 7 | 9 | 2 | 1 | 43 |
| Cilano, Ben | 0.2 | 3 | 4 | 0 | 1 | 0 | 0 | 0 | 0 | 0 | 6 | 7 | 1 | 1 | 26 |
| Scheuermann, Eric (W, 1-0) | 3.2 | 6 | 2 | 2 | 2 | 3 | 0 | 0 | 0 | 1 | 16 | 18 | 3 | 4 | 53 |
| Beer, Allan (S, 1) | 2.2 | 2 | 1 | 1 | 0 | 1 | 0 | 0 | 0 | 0 | 9 | 10 | 6 | 1 | 41 |
| Totals | | 13 | 7 | 3 | 4 | 7 | 0 | 0 | 0 | 1 | 38 | 44 | 12 | 7 | 163 |
Austin Peay