APSU Sports Information

Clarksville, TN – The APSU football team will go under the lights 7:00pm, Friday, at Governors Stadium for the spring session's second scrimmage.
After the Austin Peay State University Govs saw significant progress in the first scrimmage last Saturday, particularly on the offensive side of the ball, more will be expected from the signal callers, particularly Mickey Macius, who went 9-for-16 for 71 yards and two scores and added another touchdown and 51 yards rushing.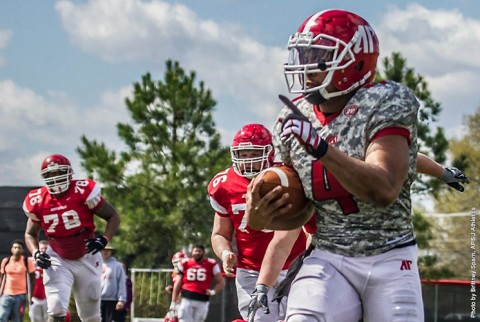 Macius' wheels have been evident in the new attack designed by offensive coordinator Wes Satterfield.
The Governors also put together a solid day on the ground in the first scrimmage, gaining 312 yards on 59 carries.
"Offensively, we hope to play with good tempo," said head coach Will Healy. "I hope our physicality improves from scrimmage one to scrimmage two. I hope we eliminate turnovers on offense and create some on defense.
"Somebody's going to win that turnover battle, and that's been the interesting part of being a head coach—I'm kind of never happy with whoever wins that battle (in scrimmages)."
While the defense has remained banged up for much of the spring, it has offered the coaching staff a period of evaluation for many younger players, particularly along the defensive line and in the secondary. Mykhael Sanford, Steven Pappadakes and James Bond—all freshmen—had seven tackles each in the last scrimmage, while Shaun Whittinghill recovered a fumble.
"I hope our defense flies around and group-tackles the football," Healy said. "Hopefully, both sides will be penalty-free, and we hope to have a good crowd back at the stadium under the lights."
This will be the Governors first scrimmage from Governors Stadium after playing the first scrimmage at Morgan Brothers Field last weekend.
Austin Peay will have one more scrimmage, the Red-and-White Spring Game, as the pinnacle of a full day of Spring Fling action, April 23rd. The Spring Game is scheduled for a 4:00pm start.