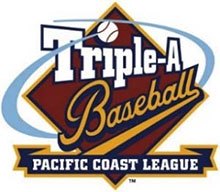 Round Rock, TX – The Professional Baseball Athletic Trainers Society (PBATS) has selected Nashville Sounds' Brad LaRosa the 2016 PCL Trainer of the Year.
The award is given annually to one member of each of the 16 Leagues in Minor League Baseball, as well as the Dominican Summer League, in a selection by their peers. As the PCL winner, LaRosa is now eligible for the Minor League Athletic Trainer of the Year award, which is voted upon by full membership of the PBATS and announced at the 2016 Major League Baseball Winter Meetings in Washington, D.C.
LaRosa is in his ninth season in the PCL, serving as the athletic trainer for Oakland affiliates Sacramento (2008-2014) and Nashville (2015-16).
This season he was responsible for the care of 57 different players, including nine on Major League Baseball rehab assignments; the Sounds enter play Thursday with a PCL-best 77-55 record.
Before joining the Athletics organization, LaRosa spent two seasons with the Florida Marlins (2003-04) and three with the St. Louis Cardinals (2005-07), working with each organization's Double-A affiliate.
Over his 14-year career, the Illinois resident has been recognized on numerous occasions for his work. LaRosa was the 2007 recipient of the PBATS Minor League Athletic Trainer of the Year. He has also previously been named the PCL Trainer of the Year in 2012 and the Texas League Trainer of the Year in 2006.
LaRosa is a certified member of the National Athletic Trainers' Association (NATA) and the Illinois Athletic Trainers Association. He attended Southern Illinois University at Edwardsville, where he earned a bachelor's and master's degree in kinesiology.